Bridal registries are common with couples who are about to be married. Now, just as couples can register at a department store or specialty store, they can also register with a lender for the FHA Bridal Registry Program. Newlyweds who want to buy a house as they start their newly-married life can use this program to earn money for their down payment.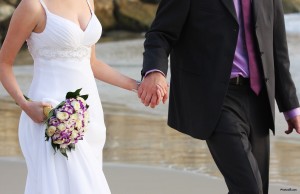 The FHA Bridal Registry Program's specific purpose is to allow family and friends of engaged couples to deposit money into an interest-bearing account that will help them save money for a down payment on their first house.
According to an article on Rebekah Radice's ActiveRain blog, the program can be completed in three steps. First, the couple opens a savings account prior to their wedding. Then, friends and family will be given the banking information where gifts can be deposited. Finally, all gifts go to the FHA required 3.5 percent down payment.
Anyone with an interest in the purchase cannot deposit anything into the account. The couple also does not have to be married prior to when they close on the house.
The money can also be withdrawn and used for something else if plans change. "There is no obligation to use the money for a down payment on a house," says Nicolas P. Retsinas, Assistant Secretary for Housing-Federal Housing Commissioner, in a statement.
Although the program was introduced in 1996, it is still a very little known fact when it comes to down payment assistance.
Plus, the program not just for newlyweds. An individual (or individuals) can also adjust the program for other situations where gifts are received.