By Dan Provost
To Henry Sakowski, the formula is simple: to be considered a top managing broker, you have to recruit the best real estate agents to your brokerage. But to recruit these top producers, you have to be a top managing broker.
It's a formula that has inspired Sakowski since he first became a managing broker in 1993. Today, he manages the RE/MAX City brokerage on Chicago's Northwest Side, a brokerage that has two offices and a roster of about 100 real estate agents.
This makes his brokerage the largest RE/MAX franchise in Chicago. But Sakowski isn't satisfied. He's always focused on bringing new agents to his office, and on doing whatever he can to help these agents succeed once they get there.
"As a broker, you have to ask yourself why agents would come to your office," Sakowski said. "Why would they come to your office and not another one? If you ask this question, it will inspire you to create a good environment for your agents, to create a place where agents have every opportunity to succeed. It should be about the broker doing everything possible to help agents sell more houses."
Sakowski's goal, to make his brokerage as productive an environment as possible for his agents, may sound simplistic. But to him, and to other top managing brokers in Chicago and its suburbs, it represents a sound recipe for running a thriving real estate brokerage, especially in today's challenging real estate environment.
Education is Key
Lynn Kosner has served as the managing broker of the Highland Park office of Baird & Warner since the summer of 2005. This means she has managed the office through some of the busiest times in the residential real estate industry as well as through some of the most difficult.
The market today, of course, fits into that latter "difficult" category.
It's why Kosner today focuses on providing the agents in her office with as much education as possible. She makes sure that her agents have access to all the information and selling tools that Baird & Warner provides. This includes technology tools to help them build stronger, more interactive websites. It includes seminars and workshops on the basics of closing short sales. It includes, too, tips and suggestions for making use of social networking.
And Kosner's door is always open to her agents. When they have questions, she makes time to answer them.
"Agents are working so hard on educating the buyers and sellers today on how this market operates," Kosner said. "Agents are working with their buyers to help them get financing today. They're working with their sellers to help them set the right price for their properties. And while they're doing this, they're trying to constantly educate themselves, too, on the challenges of this market. It's not an easy time. It's my job to help them maintain a healthy perspective, and to help them realize that it won't always be this difficult."
Brokers today – at least the most successful ones – also need to act as part-time psychiatrists. They serve as sounding boards for agents who are often frustrated with today's home-selling market. Often, brokers need to only listen as their agents vent about a short sale that fell apart or a seller who refuses to budge on a sales price that isn't attracting any offers. Sakowski even has a degree in psychology, and he says this has aided him in helping and advising his agents with their clients since the market shifted.
Like Kosner, some of the most successful managing brokers in the Chicago area have served as real estate agents themselves. She logged 15 years as a sales associate, and she also put in time as an assistant manager at a Coldwell Banker office.
Thanks to this experience, Kosner understands the challenges that the agents in her office face. And because of this, she's able to provide advice that actually worked for her in similar situations. She also understands that sometimes encouragement is all that an agent needs.
"In this position, you need a good sense of humor," she said. "You need to have a pretty even-keeled perspective on things. You have to be the person who helps steady the course. You often need a lot of Excedrin, too."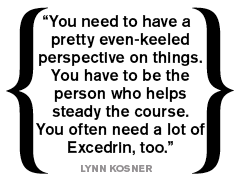 Kosner views being hands-on with her agents as especially important in today's market. Because she has experience selling, she often sits in with her agents on phone calls to sellers. She works on comparative market analyses with her agents. She helps agents brainstorm marketing campaigns and promotional materials for their listings.
She studies the market closely, too, keeping up with the trends and issues with which her agents are dealing. This is important; brokers who don't understand the market in which their agents are working can't help them deal with the difficult issues.
This market knowledge is why Kosner's agents don't hesitate to come to her with questions, and it's why they take the training courses and attend the industry seminars that Kosner recommends. It's also why they'll experiment with new technology and marketing tools when Kosner suggests them.
In addition, agents often come to Kosner when they are angry or frustrated, and may feel that there are no solutions available to them. In these situations, Kosner first calms the frustrated agents and then works with them to find solutions. In many cases, Baird & Warner offers marketing materials, website building tools and communication solutions that can help these agents work through whatever challenges they are facing.
Kosner knows – as do the top managing brokers in the region – that a little support from someone who's worked through the same challenges in her career can go a long way toward helping stressed agents make it through another difficult day.
"The world has gone a little crazy," Kosner said. "Buyers and sellers are both having difficulties. Agents are having difficulties. My job is to create an environment where it is safe and easy for them to come in, bounce ideas off each other and find help with what is going on today. I have to help my agents keep the perspective. The world isn't truly falling apart. It may feel that way, but we will come out the other side."
No Competition
Kosner doesn't compete with her agents. The managing brokers with Baird & Warner don't sell. Sakowski also doesn't sell. His theory? Managing brokers should not be in competition with the agents in their office. A managing broker's job is to help the agents in his or her office succeed, Sakowski said. It can prove challenging to do this if you're also competing with these agents for listings and clients.
Brokers should also be distributing any leads that come into the office among their agents. Brokers who sell, though, might be tempted to nab these leads for themselves. This gives them an unfair advantage.
It might also persuade agents to choose to work at a different office, one in which they are not battling their brokers for business.
"I know that a lot of broker/owners sell. But I don't think a successful broker can do this," Sakowski said. "I'd rather focus on my agents' production, on helping them do more business. You'll often see that in offices with a broker who sells, that the broker/owner also happens to be the top-producer in the office. What a surprise."
"My customers are my agents. That's how I treat it. My agents are serving the home buyers and sellers. I'm serving my agents."
– Barry Paoli
When Sakowski first joined RE/MAX in 1992, he worked as a real estate agent. After earning more than $100,000 in commissions, he decided to make the transition to managing broker. At first, he tried to sell and manage at the same time. He found, though, that when he tried to recruit new agents to his office, that many of the best and most experienced balked at working under a broker who would also be their competition.
Sakowski quickly made the decision to no longer sell. It's one that he hasn't regretted. "Potential recruits saw me as a competitor," he said. "I didn't want that. I want my agents to feel comfortable. They can't do that if they don't see me as an advisor but as a competitor."
Jim Mulvoy, managing broker of the Aurora/Naperville office of Coldwell Banker Honig-Bell, follows the same strategy. He's been the broker of the office for 12 years. For the last 10, he hasn't sold.
This, he says, allows him to focus on helping his agents build their own businesses without worrying about serving clients of his own. "I am able to focus on providing the support that the agents in my office need," Mulvoy said. "That is crucial to their success. When agents first get into the business, they know very little about real estate. They just know how to pass the licensing exam. One of the values of having a non-selling broker is that this broker will focus on the success of the agents instead of on their own sales."
While not competing with agents is important for a managing broker's success, it is also important that the right agents are being hired. A managing broker is only as good as his team, and therefore, hiring the right team is crucial. Part of Barry Paoli's success as the managing broker/owner of Chicago's Century 21 McMullen lies in his ability to add the right Realtors to the brokerage. To do this, he personally interviews every agent who wants to join the brokerage. And what does he want to know? What goals agents have.
"You need to have goals if you want to succeed in this industry today," Paoli said. "I want agents working for me who are motivated, and who treat this as the real career that it is. I want my agents to be productive. It's why I take the time to make sure that the right agents come here. I don't hire everyone who wants to work here. I only hire the agents that are motivated to succeed. It's no accident that we are the top Century 21 office in the state."
Necessary Tools
Managing brokers take on many jobs. One of the most important is to provide their agents with all of the tools they need to succeed.
For Sakowski, this starts with the staffing levels of the office. Real estate offices thrive when they have enough support staff to help agents do their jobs. This means receptionists to answer calls, take down leads and greet clients when they walk into a busy office.
"Some offices are understaffed," Sakowski said. "They have too many agents and not enough staff. When agents consider a new office to join, they want to see that there are enough staffers. They want to see how potential clients are treated when they enter an office. If there's not enough staff, clients end up standing around, waiting to be helped. This leaves a bad impression. Components such as these are very important for the agents who want to make a decision to join the office."
In any market, agents need to be happy. But in a tough market, like today's, this can be harder to accomplish. But a well-staffed office, along with a broker who understands the market and the challenges it holds, can help.
An important part of this involves training. Agents today need plenty of training to tackle the difficulties of today's residential market. They need to learn how to overcome the hurdles involved in short sales and the challenges of selling and buying foreclosed properties.
"The training that was good five years ago is not good enough today," Sakowski said. "Brokers should make sure that they have current training programs in place for their agents. Agents need to be properly educated today. They need to go for the proper designations. Having those designations inspires confidence in consumers. Consumers see those designations and see that an agent is working to adjust to a new market."
At Coldwell Banker Honig-Bell, Mulvoy has instituted a training program for new agents. The office's experienced agents agree to work with newcomers for three months. During this period, the new and experienced agents cover everything from the basics of salesmanship to the intricacies of how contract documents work in once-a-week sessions.
"My thought is, if we shorten the learning curve, these agents will be successful faster," Mulvoy said. "We'll all make more money with that. It's a win-win situation. The goal is to teach new agents some of the pitfalls that they might run against in this market."
This training helps, too, with recruiting. Mulvoy can promise agents that if they come to his office, they won't be left to fend for themselves. In a market that is this difficult, this promise of support can serve as a key enticement to agents trying to decide upon a home office.
Keeping it Positive
Real estate news is far from positive today. Housing values continue to fall. Foreclosures are rising. And it's difficult for even qualified buyers to nab financing from mortgage lenders.
All this negativity can dampen the mood of agents. It can also keep them from being productive.
Mulvoy, though, fights this. He considers fostering a positive attitude to be one of his most important jobs as a managing broker.
"We don't buy into the news," he said. "I always tell our agents that you have to watch what you read or hear. It all doesn't apply to our market."
Much of the most negative news concerning real estate is happening in places such as Florida, California, Nevada and Arizona. And while the Chicago area has its own share of housing troubles, they're not quite as severe as they are in those other markets.
Mulvoy makes sure that his agents know this. He also cites the many positives of working in a relatively stable market like the Aurora and Naperville area in which his agents do their selling.
"I don't care what marketplace you are in. You need to have a positive outlook on life in our business," Mulvoy said. "A business like real estate is up and down. It's a rollercoaster ride. Part of my job as a managing broker is to smooth out that ride as best as possible."
Paoli said one of his most important jobs is to keep his agents motivated, even in this gloomy real estate market.
To help do this, he sends out a weekly e-mail blast containing information about the local housing market and tips for succeeding in it.
"I have to be the positive force for my agents," Paoli said. "That's not always easy today. Everything you hear from the media is negative these days. There is so much negative talk out there. My agents need to hear the positives from me."
For instance, while housing values have fallen, and continue to fall, Paoli stresses that his agents can make up for this by selling more residences as buyers move to scoop up homes that are suddenly affordable.
This approach is working. Century 21 McMullen ranks as the top-producing Century 21 office in Illinois, Paoli says. In May, agents at his office sold 118 homes.
"My customers are my agents," Paoli said. "That's how I treat it. My agents are serving the home buyers and sellers. I'm serving my agents."
What does all this mean? It means that managing brokers have to provide their agents with a listening ear. They have to sacrifice their own sales to make sure their agents thrive. They have to encourage their agents to constantly educate themselves and to make use of the success tools available to them.
While doing all this, the best managing brokers have to continually study their markets to make sure they understand the obstacles that their agents face every day.
It's a tall order. And on top of all this, managing brokers face one more monumental task: They need to provide a positive example to their agents every day, which means not panicking when bad real estate news hits the airwaves. It means not throwing a fit when a big deal runs into a snag. And it means laughing occasionally, even when the industry throws yet another twist at the men and women who sell homes for a living.
Brokers who do this will discover an amazing thing: Their own agents will do much of their recruiting for them. At least this has been the case with Mulvoy.
"I feel that I need to earn my agents' respect every day," Mulvoy said. "By doing so, by keeping them well-supported and well-informed about the market, I exert a positive impact on my office. I'm very fortunate. In most cases, my agents tell me that they are out there recruiting for me. They'll bring new agents to me. And they'll tell me when other brokers come after them. They don't do this because they want more money. They do it because we are all part of a family in this office." C.A.
Sources
Henry Sakowski
RE/MAX City
773.775.0600
hsakowski@remax.net
Lynn Kosner
Baird & Warner
847.266.4750
lynn.kosner@bairdwarner.com"
Jim Mulvoy
Coldwell Banker Honig-Bell
630.236.6500
james.mulvoy@coldwellbanker.com
Barry Paoli
Century 21 McMullen
773.213.1487
c21bep@aol.com
"My customers are my agents. That's how I treat it. My agents are serving the home buyers and sellers. I'm serving my agents." Barry Paoli
"Potential recruits saw me as a competitor. I want my agents to feel comfortable. They can't do that if they don't see me as an advisor but as a competitor." Jim Mulvoy
"You need to have a pretty even-keeled perspective on things. You have to be the person who helps steady the course. You often need a lot of Excedrin, too." Lynn Kosner