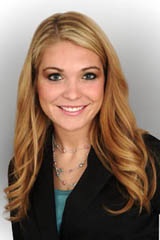 What was your first job in the realty industry? My first job in the real estate industry was when I was 16; I was an assistant to an agent that was a friend of my mom's. I was just filling in for another assistant for a few months and it was just supposed to be a summer job. I fell in love with the real estate world. I was constantly going to open houses to learn the market after that summer because after that job, I knew I wanted to go into the business. I worked answering phones at real estate offices until I was 21 and able to get my license.
Where did you grow up? I grew up in the northwest suburbs in Barrington.
What is your favorite free-time activity? When it's nice out, anything outside with my dog!
What do you do to relax when you're stressed? Make lists…I have lists on my desk constantly. Being able to cross things off is a big stress-reliever for me!
If you weren't a Realtor, what would you be? Something in the interior design field. I went to school for interior design and opened up a staging company after college, and loved every minute of it until the market changed! I love all aspects of homes and design. Helping clients and friends make their homes beautiful is so much fun to me. I love helping friends decorate on a budget, and doing that for a living would be a blast, as well!
If you could have lunch with a well-known figure (living or not), who would it be and why? I'd love to have lunch with Candice Olson. She has a show called "Divine Design" and is the most talented designer ever, in my opinion. Spending an hour at lunch with her and hanging out would be amazing!
What is the most difficult aspect of your job? Right now, the most difficult aspect of my job would be educating sellers. While everyone expects to get a good deal right now, they all seem to think that the market has affected every property out there, except for their own! This has been the most difficult aspect of my job in the last 18 months.
Where do you go to network and meet new clients? Anywhere and everywhere! If you are a salesperson, you know that by just stepping outside your front door, there are prospects everywhere! I've never really been into networking events. I find that friends and past clients make the best source of referrals.
Architecturally speaking, what is your favorite building in Chicago? I love the architecture of the Fourth Presbyterian Church on Michigan Avenue and the covered cloister garden area.
What kind of car do you drive? A black Range Rover Sport.
BlackBerry, iPhone or Paper? Both! I'm such a paper person but it has been a big accomplishment for me in the last year to use the calendar in my phone and not a physical calender. I am usually never more than a few feet from my iPhone, so most things are programmed into it now and not on paper.
What is your favorite city after Chicago? New York – but to visit, not live!
In 10 words or less, what is your advice for someone new to the industry? Figure out what makes you different and embrace it!