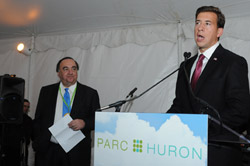 State Treasurer and Senate candidate Alexi Giannoulias and Alderman Brendan Reilly joined executives from Chicago-based M&R Development and RMK Management Corp. to celebrate the grand opening of Parc Huron, Illinois's first Gold LEED-certified residential rental high rise.
Located at 469 W. Huron St. in Chicago's River North neighborhood, the luxury building was recently certified by the U.S. Green Building Council, making it the first of its kind in the state to earn LEED Gold.
"The completion of this striking building and official certification of LEED Gold are both achievements RMK and M&R Development are very proud of. We are thrilled to officially grand open Parc Huron to our community leaders, neighbors and residents," said Anthony Rossi, Sr., president of RMK Management Corp. and M & R Development "We can truly say that Parc Huron stands alone in terms of its eco-friendliness, luxury and design."
The event was held on September 30th in Parc Huron's 14,000-square-foot park with more than 200 guests in attendance. The development of that green space as well as a green roof earned the building two of many credits required by the USGBC for LEED certification. Additionally, Parc Huron's design, construction and operation met the strict standards set forth by the USGBC, which included a high level of energy and water efficiency; use of recycled and regional materials and recyclable construction materials; and an advanced degree of indoor air quality, which was attained through the use of low-VOC materials and a sophisticated air filtration system.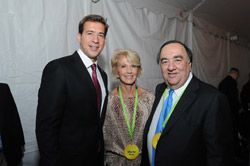 Another feature of Parc Huron earning LEED credit are the four electric car charging stations, which automatically check the vehicle's battery and measure the power consumed. That evening, the stations showcased two 2010 Tesla Roadsters. These cutting-edge vehicles offer zero-percent tailpipe emissions and retail for more than $100,000.
Attendees enjoyed tours of Parc Huron's two decorated models and the numerous on-site amenities, including a fitness center; media lounge; cyber café with outdoor seating and an indoor/outdoor fireplace; conference rooms; a 12-seat theatre; and a temperature-controlled wine storage room. Residents also have access to an on-site spa with a nine-person plunge pool, steam room, and meditation area.
"We are overwhelmed by the outstanding feedback we received from the tours of Parc Huron. People were very impressed by the finishes and the host of amenities," said Rossi. "We heard time and again that people were surprised to see such fine apartment homes and luxury amenities in a green building, and that is the ultimate compliment for us."
Designed by Chicago-based Hartshorne Plunkard Architecture, Parc Huron includes 221 units with one to three bedrooms, plus parking. One-bedroom homes range in size from 614 to 729 square feet, while one-bedroom-plus-den floor plans range from 780 to 871 square feet. Two-bedroom apartments measure from 1,100 square feet to 1,350 square feet, and three-bedrooms range from 1,375 to 1,443 square feet. Parking for 233 cars is located on floors two through four. Lease rates currently range from $1,900 to $4,057 a month.
"These apartment homes are certainly on-par with – if not rival – for-sale condominiums in Chicago because of their high-end appointments and spacious layouts," noted Rossi.
Each residence includes hardwood flooring, oversized windows, 9½-foot ceilings and high-end finishes, such as granite kitchen countertops, stainless steel backsplashes, stainless steel G.E. Energy Star kitchen appliances and solar-protecting window shades. All homes also feature in-unit laundry, a built-in workstation, and a private balcony. Additionally, some plans have walk-in closets; a utility room; and a deluxe master bath with dual-bowl vanities and separate shower and tub. Penthouse level residences feature 10½-foot ceilings.
To visit Parc Huron and tour the residences, take Chicago Avenue to Hudson Street and head south. Continue two blocks to West Huron Street and turn right. Parc Huron is on the south side of the street at 469 W. Huron. For more information, call (312) 854-8400 or visit www.parchuron.com.