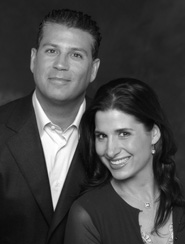 Frank – President, Rubloff North Shore, Evanston; Trish – Team Partner, Rubloff North Shore, Evanston
What was your first job in the realty industry? Frank: Licensed agent; Trish: Creating our team in 2004 with my husband
Where did you grow up? F: River Forest; T: Wilmette
Why do you enjoy working with a team? F: The level of client services that we can provide as a team; T: Our team is what allows us to be different. The support and energy is incredible, and without it we would not be able to deliver what we call a different experience!
What do you think your team members would say is your best quality as a leader? F: My attention to all details, my negotiating skills and follow up to completion; T: My positive attitude through all of the good times, but more importantly during the bumps in the road and the difficult times
What qualities do you require in team members? F: Constant communication and a high level of passion for our work; T: Excellent attitudes and the ability to deliver unsurpassed service to our clients. Follow through and consistency daily is imperative, as well as willingness to go above and beyond for our team.
If you weren't a Realtor, what would you be? T: I would have a really cool inn with my husband and family in the mountains or by water that everyone would die to come visit. It would be small, lovely, super comfortable and a complete retreat. I would spoil people rotten and be spoiled living there.
What is your favorite place to "hang out?" F: I love hanging out at home with my family
Where do you go to network and meet new clients?
T: It is all through referrals and clients sharing our name with others about their experience with our team. They pass our name on and we love that!
What was the last good movie you saw or book you read? F: "The Last Lecture"
T: "The Shack"
What is your favorite restaurant? T & F: Italian Village Restaurant
BlackBerry, iPhone or Paper? T & F: BlackBerry for our team and OutLook
What is your favorite city after Chicago? F: Aspen; T: Capri, Italy, where my dad is from and where my mom swept him up to move to Chicago. It's my favorite place on planet Earth.
In 10 words or less, what is your advice for someone new to the industry? F: It's like being an OB/GYN, you will always need to be available to deliver!