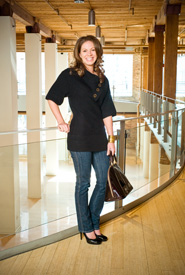 Jameson, Old Town
Number of years in real estate: 5
Describe your look: Edgy and ever-evolving
What do you consider a "fashion don't"? Not being comfortable/confident in your wardrobe — I think it shows every time.
What is your favorite piece of clothing and why? I love coats! There are many days of appointments when my clients don't even see what I'm wearing under my coat.
What do you consider a must-have accessory? I never leave the house without earrings. They are fun and can really add character to any look.
What is a fashion crime you have committed in the past? Maybe you should ask someone else? Of course I don't think I have committed any fashion crimes.
Where are your favorite places to shop? Anywhere online with free shipping!
What, besides your wardrobe, completes your look? A hot handbag and heels
Sweater-Guess
Jeans-Victoria's Secret
Bag-Louis Vuitton
Shoes-Colin Stuart
Bracelet-Francesca
Earrings-Macy's
Special thanks to The River East Arts Center for the location of the photo shoot.