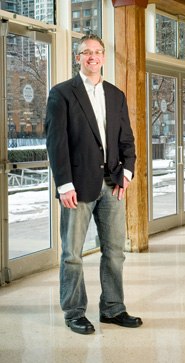 Real Living Helios & Washington Mutual
Chicago and Suburbs
Number of years in real estate: 12
Describe your look: Professionally casual
What do you consider a "fashion don't"? Clothes that are too tight, and wearing too much cologne or perfume
What is your favorite piece of clothing and why? My Columbia fleece jacket, it's just comfortable
What do you consider a must-have accessory? A tux, you never know when you will need to don a black tie
Where are your favorite places to shop? Nordstrom, Brooks Brothers, Mark Shale, Express, Gap
What, besides your wardrobe, completes your look? Confidence in what you are wearing. I feel how you look on the outside reflects what's going on inside. If it doesn't feel right or you don't like the way something looks, change!
Sport Coat-Brooks Brothers
Shirt-TailorByrd
Jeans-Express
Shoes-ECCO USA
SPECIAL THANKS TO The River East arts center FOR THE LOCATION OF THE PHOTO SHOOT.