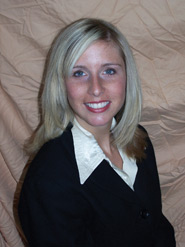 Broker Associate – Evans Realtors
Chicago
What was your first job in the realty industry? At the age of 13 my father handed my a paintbrush and I learned how to fix up foreclosures and rental properties. It was at that moment I learned the value of a can of paint – a $25 gallon of paint equals $1,000 in resale. I have been working in the real estate industry ever since.
Who inspires you? My father, not only is he a successful business man, he has taught me countless lessons of life. A few that stick with me are: Opportunities are everywhere, I just have to keep my ears and eyes open and seize them when they arise! Everything is negotiable and don't take "no" for an answer, which didn't always work toward his favor while I was growing up. I also take pride in knowing that my father has left a positive impact on people. Whenever I run into someone who knows him, they always have something pleasant to say.
What is your favorite free-time activity? Sports, whether it is running, swimming, beach volleyball, flag football, kickball or taking in a White Sox game. I love participating in them and cherish the times at U.S. Cellular. Nothing beats the smell of grilled onions, a refreshing cold beer on a hot day and watching my favorite baseball team.
How did you learn the business? I grew up in the business. Even though my parents were teaching me a strong work ethic, inadvertently they groomed me to sell real estate. Before I could I drive, I was screening prospective tenants for my father's rental properties, I learned the art of successful negotiation, how to fix and stage a home to sell, how to showcase an open house and ascertaining profit and loss scenarios on foreclosures.
What is the most difficult aspect of your job? Juggling my time. I love what I do, so it is very easy for me to work long hours. I need to make sure my life is balanced with time for friends, family, my husband and my work.
Where do you go to network and meet new clients? I have joined sports teams, I attend social events with Chicago Iowa Alumni, Young Professionals of Chicago, Women's Council of Realtors (WCR), I network through the various Internet social groups (Facebook, LinkedIn, Plaxo, Iowa Alumni, etc.) and I have a large network of friends that I constantly keep in contact. I am working on blogging as well!
What has been your greatest accomplishment? It actually happens at every closing: Knowing that I have helped my clients make the right choice with one of their most important financial decisions of their life.
What was the last good movie you saw or book you read? Dark Knight
What is your favorite restaurant? Tuscany on Taylor
Architecturally speaking, what is your favorite building in Chicago? The Chicago Theatre, the abundance of ornate details inside and out, the chandeliers and the glow of historical neon sign reflecting off the terracotta bricks; it is a classy architectural masterpiece that is worthy of its landmark status, and a great place to see a show.
What kind of car do you drive? Nissan Murano
BlackBerry, Palm or paper? BlackBerry
In 10 words or less, what is your advice for someone new to the industry? You get out what you put in, nothing's easy!