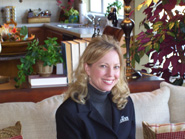 Geneva
View more in our 2010 Spring New Construction Digital Edition
Current Project: Mill Creek
What was your first job in the realty industry?
Full-time sales assistant at Shodeen Residential
Where did you grow up?
Addison
What do you enjoy about working with new construction?
The satisfaction I receive in helping my buyers build their dream home
How many different new construction projects have you worked with? Although I've only been employed with Shodeen Residential at Mill Creek, I have sold everything from entry-level homes to custom homes over $1 million dollars
What do you do to relax when you're stressed?
Reading and/or gardening
If you weren't a Realtor, what would you be?
Landscape designer
If you could have lunch with a well-known figure (living or not), who would it be and why? Mother Teresa, because I would like to know what inspired her to make the choice to devote her entire life to helping the poorest and most unfortunate people in the world
What is the most difficult aspect of your job?
Seeing the disappointment in my buyers' faces when they are not able to move to Mill Creek because they cannot sell their current home due to market conditions
Where do you go to network and meet new clients?
Geneva Women in Business, presentations at Realtor offices, social gatherings, church functions and volunteer work
What has been your greatest accomplishment?
My relationship with my family
What was the last good movie you saw or book you read?
It's Complicated
What is your favorite restaurant?
Wildwood in Geneva
Architecturally speaking, what is your favorite building in Chicago? Holy Name Cathedral, absolutely spectacular!
What kind of car do you drive?
Jeep Patriot Limited
BlackBerry, iPhone or Paper?
iPhone
What is your favorite city after Chicago?
Honolulu
In 10 words or less, what is your advice for someone new to the industry?
People skills; building relationships is the key to success.