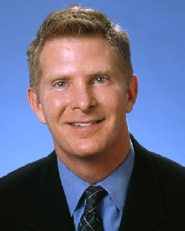 Wrigleyville/Lakeview
What was your first job in the realty industry? I got my sales license on a Friday and co-listed two properties on Monday with a small boutique agency in Lincoln Park. You had to do everything, and I mean everything: prospect, lead generation, input your own listings, write copy, take pictures, prepare pre-listing packets and buyers packets, open houses, show properties, etc. It was tough, but I learned a lot and ran with it. I do not recommend this route for new agents.
Where did you grow up? Winston-Salem, N.C. However, we moved around because of my stepfather's profession. I lived in Wyoming, Texas, Florida and Washington, D.C.
What is your favorite free-time activity? What free time? When time permits, I do enjoy a good workout. I also love to surf and play tennis.
What do you do to relax when you're stressed? Go for a run and/or workout, play tennis
If you weren't a Realtor, what would you be? Great question, considering that I have destroyed my resume because there's nothing else I want to do. Literally, I live, eat and breathe real estate. I love this business and can't wait to wake up in the morning to start working.
If you could have lunch with a well-known figure (living or not), who would it be and why? There's too many really good people that I admire to just choose one – and that's not indecision, which, by the way, I loath.
What is your favorite place to "hang out?" I have a ton of energy, so I just don't hang out. I need to be on the constant move or I get antsy.
What is the most difficult aspect of your job? My managing broker and I were having this discussion and we both agree that in the current climate you are a counselor. So, there's really not one difficult aspect, there are numerous challenges, but that's why your client hired you. You really have to be prepared to step in the shoes of your client to truly manage the process of the transaction.
Where do you go to network and meet new clients? The majority of my clients come from referrals, so I focus on my client base because that will generate the highest return. I stay in constant contact with them, too.
What has been your greatest accomplishment? In real estate, it would be the first six months of 2006. I made it a goal to get my broker's license, ABR, CRS and GRI all in six months! The CRS is by far the best designation one can have and it generates solid referrals from agents across the country.
What was the last good movie you saw or book you read? Movie: The Reader
What is your favorite restaurant? Capital Grille, I'm a huge steak lover
What kind of car do you drive? Range Rover
BlackBerry, iPhone or Paper? BlackBerry, which never leaves my side. My clients are amazed at my response time. I believe this comes from excellent training at Leo Burnett, USA; it's all about the client!
What is your favorite city after Chicago? Los Angeles, I love the outdoors and the proximity to the beach and mountains. Plus, it helps to have a solid base of friends there.
In 10 words or less, what is your advice for someone new to the industry? Figure out what market you're going to work and then study it to the Nth degree!