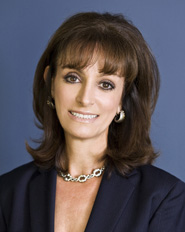 Hunter's Fairway Sotheby's International Realty, LLC, Barrington
What was your first job in the realty industry?
Real Estate salesperson with Adams & Myers, Hinsdale, in 1985
Where did you grow up?
Dubuque, Iowa
What is your favorite free-time activity?
Golfing with girlfriends
What do you do to relax when you're stressed?
Weight train and go to the movies with popcorn and Twizzlers
If you weren't a Realtor, what would you be?
A celebrity (SarcMark!)
If you could have lunch with a well-known figure (living or not), who would it be and why?
Mick Jagger, I admire that he is known for working hard and playing hard
Where is your favorite place to "hang out?"
On a lounge chair in the sun with a cosmo
What is the most difficult aspect of your job?
Recruiting agents who I believe reflect the personality of the Sotheby's brand, which is "inviting, discreet, savvy & refined"
Where do you go to network and meet new clients?
Anywhere from walking down the street to a golf course and in between – it just kind of happens!
What has been your greatest accomplishment?
Most of all, raising three happy, healthy children and also being able to open my own Sotheby's franchise in the midst of these challenging times
What was the last good movie you saw or book you read?
Up in the Air
What is your favorite restaurant?
The Crab Pot, Palm Beach, Fla.
Architecturally speaking, what is your favorite building in Chicago? The Civic Opera House
What kind of car do you drive?
Red Lexus Hybrid
BlackBerry, iPhone or Paper?
BlackBerry
What is your favorite city after Chicago?
A tie between Ocean Reef, Fla., and Palm Springs, Calif.
In 10 words or less, what is your advice for someone new to the industry?
Be prepared to invest in education to further your career.