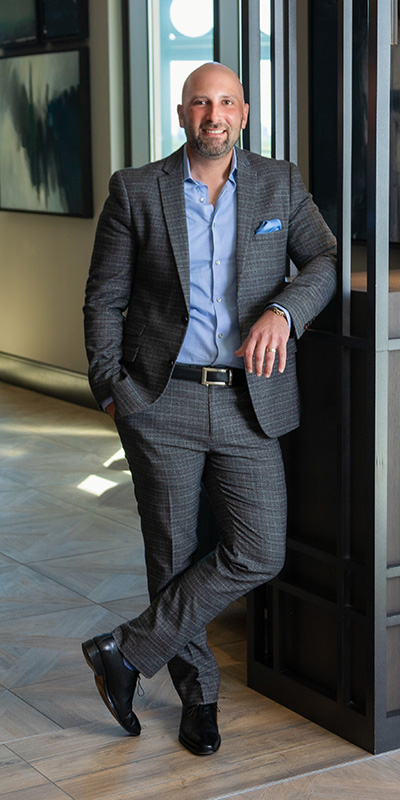 "There's a reason that for many Realtors, retirement doesn't exist," says Justin Greenberg, residential Realtor and team lead of the JG Group at Berkshire Hathaway HomeServices Chicago. "Most of us — good ones at least — love helping people!" Indeed, last year, Greenberg's team helped clients to the tune of $20 million in sales, with over 60 units closed.
His parents sparked his real estate interest during drives through high-end Chicago neighborhoods. He subsequently caddied for brokers who encouraged him, and then started on his own career path and entered the business at 22. With territory encompassing Chicago's North Shore and northwestern suburbs, he describes his approach by saying, "It's not just the deal. I want them to sell for the highest possible price, and I'm going to give them the right advice to get it. When buying, I want to get a great deal, but first and foremost, I will fight tooth and nail to make sure they get the house."
Clients appreciate Greenberg's determination, professionalism, personable nature, knowledge and negotiating skills. Tech-savvy, he's found Google to be a great asset, with this team leader piloting new programs through it that have boosted client traffic.
Greenberg is a great believer in "up-front contracts." Before seeing property or discussing pricing, he sends information to new clients. Only then does he meet them to discuss any questions and get acquainted. "Real estate is often the largest investment someone will purchase or sell," he notes. "I want to earn my client's trust before we get started."
Greenberg supports various charities, is an avid golfer and is working toward his pilot certification. Balancing work and family can be challenging, yet he's pleased to report that he just produced the best year of his career — being awarded his company's Chairman's Circle Platinum Award for the top 1% of the nationwide network and getting recognized in Crain's Chicago Business as a notable Chicagoland real estate agent — while doting on his son and anticipating a new arrival.
"Every day is different and exciting," Greenberg remarks. "There's always a new challenge and new opportunity to make someone's day better. That's what keeps me going."