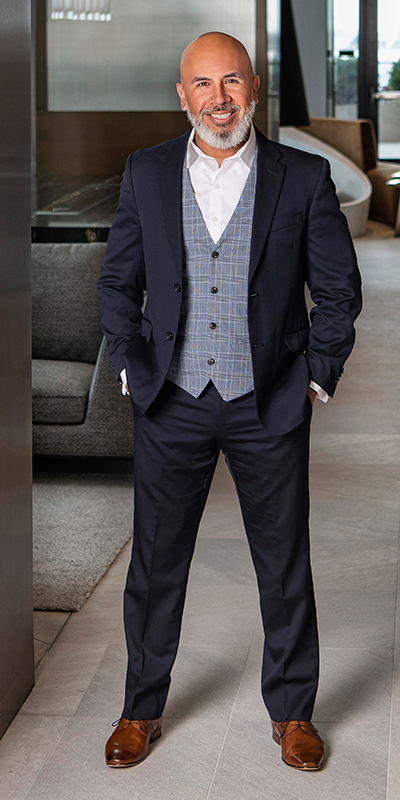 For nearly two decades, James Salazar has served a wide array of residential and commercial clients across Chicago and its surrounding suburbs and counties. Before that, he worked for a few law firms in various roles — including managerial. Shortly after leaving a law firm he was employed with for 15 years, a family friend suggested he try real estate. "Nearly 17 years later, I have to say, it's been one of the best career decisions I've made," he says.
Salazar's experience runs deep, having worked with various buyers and sellers, investors and small businesses, as well as handling short sales and bank-owned transactions. Regardless of the business dynamics, Salazar provides patient yet informative and thorough service to all of his clients. In describing what's been most instrumental to his success, Salazar states, "My ability and willingness to listen. It's quite simple. The more I truly get in tune with the needs of my clients, the better I am at helping them achieve their goals." Salazar has mastered the art of adjusting to the needs of each individual client to keep the relationship easygoing but goal-focused — a style for which he receives many return clients and referrals.
Salazar says his broad industry insight gives him a competitive advantage. "My vast exposure to various segments of the market, combined with the knowledge of so many areas within Chicagoland, its suburbs and counties, has given me the ability to dissect the market for my clients so that they are very well informed," he explains. A member of the National Association of Hispanic Real Estate Professionals, Salazar has been named a Top Producing agent with Baird & Warner for volume, units sold and mortgage and title referrals. As Salazar embarks into his new role as Director of Growth & Development, he looks forward to sharing his core values of trust, honesty and integrity with his broker associates that will be joining Baird & Warner's new office in Berwyn.