It's that time of the year again, lovelies, when I dust off the old laptop and take a long hard gander at my favorite thing in the world — real estate tech! If you didn't sense the sarcasm here, let me just state for the record that I was rolling my eyes when I wrote that. While I'm not exactly tech-forward, I do use it for some things. Have the wiz kids in Silicon Valley figured out a way for me order a bottle of chardonnay and a foot massage on Grubhub yet? I didn't think so. Luckily for me, I'm such a successful agent, all of my business comes from referrals, so I just hire someone to keep my social media presence fresh and full of life. I'd give you my handle, but I really don't need anymore followers in addition to my legion of Agent X readers.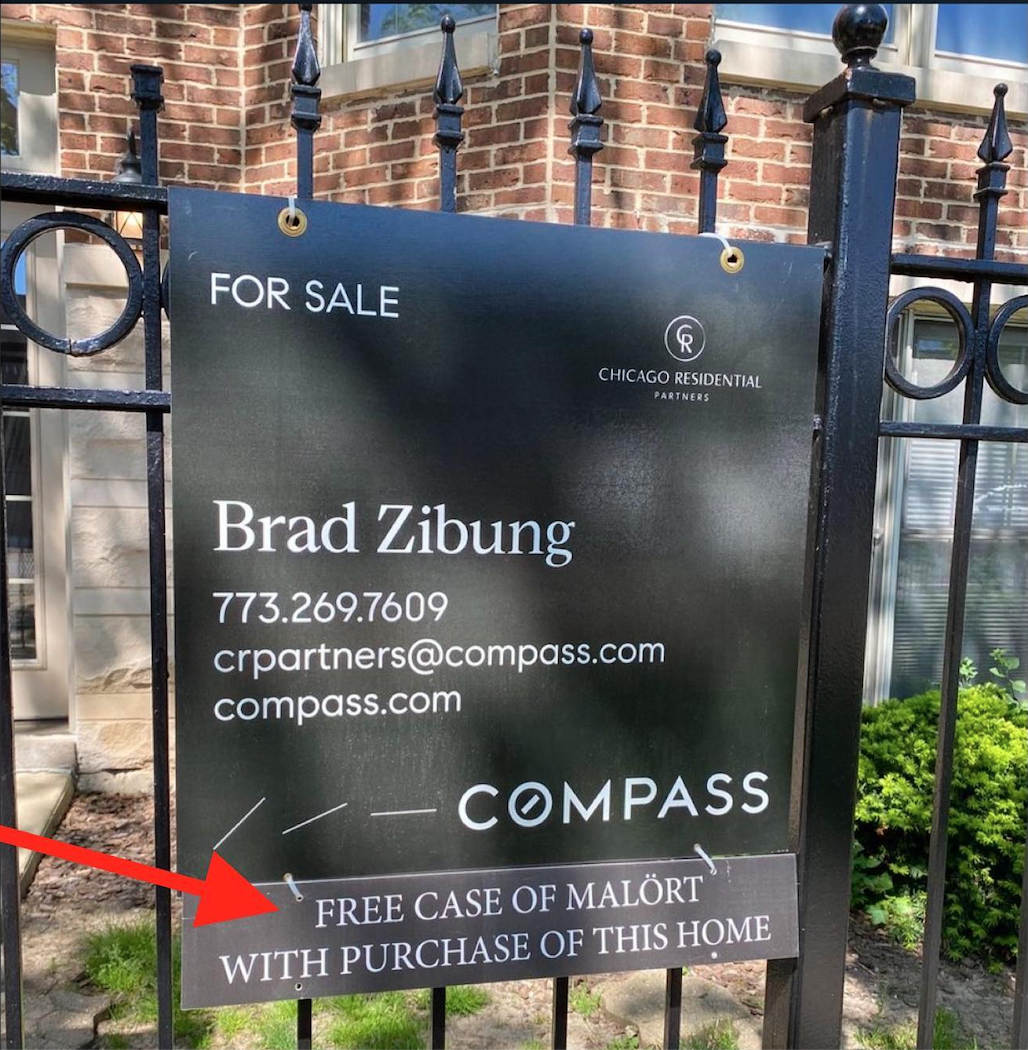 Speaking of bottles of booze here in Chicago, we were delighted here at Agent X headquarters to see a recent post on social media from the ever-delightful Jessica Kelly, at Weinberg Choi Residential, got a snapshot of a promotion that's pure Chicago. And no, the photo wasn't an image of a pile of Chicago-style hot dogs. Rather, it was a sign by Compass' Brad Zibung promising a "FREE CASE OF MALORT WITH THE PURCHASE OF THIS HOME." For the uninitiated, Malört is a delightful liqueur that is universally loved here in the Windy City that certainly never makes you scrunch your face and keel over when you drink it — ahem.
Something that made us happier than a shot of Malört was the Asian Real Estate Association Greater Chicago's party to celebrate Asian Pacific American Heritage month a few weeks ago in Bridgeport. Co-sponsored by the Chicago Association of REALTORS®, the event, replete with dance performances and art, was held at the Zhou B Art Center, and my favorite part was — you guessed it — the amazing food. Perhaps we could make this a quarterly event going forward?
Speaking of getting your celebration on, we always send a little love out to all our birthday boys and girls. Amanda McMillan Dollinger and Rebecca Thomson get to party on June 6th and 7th, respectively. Natasha Motev is right behind on June 8, while June 11 is the big day for both Joe Zimmerman and Jody Kelly. Darlene Little will be ready to par-tay on June 12. Dave Hanna, Mabel Guzman and Karen Schmid will be blowing out birthday candles on June 17, and Ginna Ryan is right behind on June 18. Jennifer Leong will get wiser — is that even possible — on June 19. Julius Barrutia and Colleen Harper can celebrate together on June 21 — call me; we'll get Malört shots. Rebecca Jensen, John Poast and Heidi Seagren should hold a joint B-day BBQ in honor of their birthdays on the 22nd, 23rd and 24th respectively. Dan Wagner and Chip Cornelius round out June with their shared June 27 birthday. Let's dip into July and start out with Joan Maloney on July 2 and then Rich Rogala on July 3. Terry Anderson and Frank Montro share their big day with America on July 4, and then Tracy Flanagan gets to bask in the post-fireworks glow on July 5.