Way back at the end of 2018, Chicago Agent magazine asked a panel of local experts what they expected to see happen with interest rates in 2019. Here are some of the predictions we heard then:
"While interest rates are rising and will likely rise further in 2019, they are still historically low."
"Many experts are predicting that we'll see 30-year fixed rates climb to the mid-fives or higher by the end of 2019. This increase could push more first-time buyers into the market; however, it may encourage current homeowners to stay put if they've already locked into a low 30-year rate."
"Mortgage rates will continue to rise, but it's looking more and more like the end of the Fed tightening cycle is near. Brexit issues, crashing oil prices, and the trade rift between China and the U.S. are going to make it very difficult for the Federal Reserve to pull off two to three more rate hikes in 2019. Meanwhile, 30-year mortgage rates will probably end the year in the 5.25 percent to 5.5 percent range."
"Interest rates will continue to rise steadily. I see 2019 ending somewhere between 5.5 percent and 6 percent. "
Obviously, that's not what happened. In fact, if you look at the numbers from Freddie Mac, interest rates actually decreased slowly but steadily throughout the year. In the first week of 2019, the average for a 30-year mortgage was 4.51; by the last week of the year, that number had decreased to 3.74.
Looking back with 20/20 vision, it's hard to make the argument that rates drove the market in 2019. Neither real estate activity nor interest rates saw much dramatic movement.
Still, as one of our experts pointed out at the end of 2018, "Buyers will react to increased prices, interest rates and property taxes. However, while interest rates are rising and will likely rise further in 2019, they are still historically low." This was even more true at the end of 2019, but for those who like to see the data laid out in stark relief, check out how things have changed since 1971, according to Freddie Mac: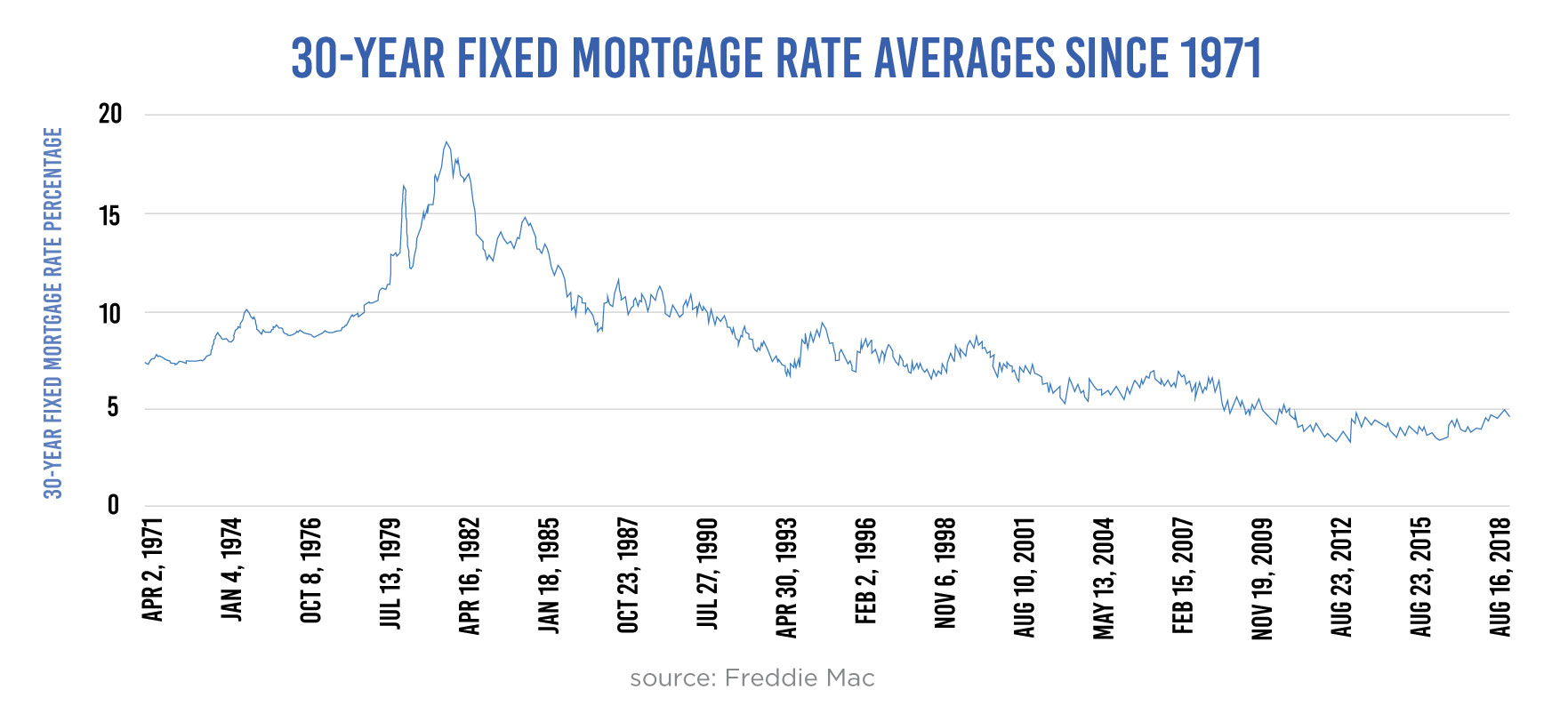 So, while most of the predictions about rates in 2019 were off by a long shot, one crucial element of the housing market in 2020 remains true: The cost of borrowing is very low, by both modern and historic measures. Even if it does finally rise in 2020, it's not likely to be the biggest barrier to homeownership.