Existing-home sales in the U.S. were up slightly in August, according to the National Association of Realtors' monthly report, released today. Completed transactions of single-family homes, townhomes, condominiums and co-ops rose 1.3 percent from July, and overall sales were up 2.6 percent compared to a year ago. Sales rose in three out of four regions (Midwest, South and Northeast), with only the West region reporting a decline (3.4 percent) in August.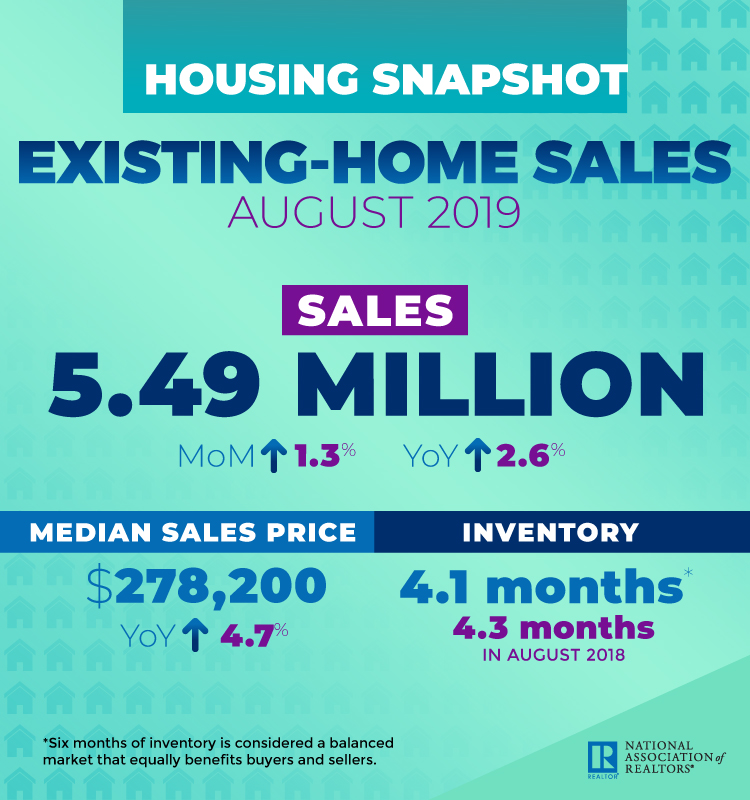 Illinois Realtors also released its data for sales and prices in the state today, and the news was not as positive. While median prices moved higher in August, statewide sales were down 6.7 percent from last year. The statewide median price in August was $214,000, up 7 percent from 2018, and inventory saw a 5.1 percent decline over last year's numbers. In Chicagoland, home sales were down 6.6 percent from August 2018 and prices were up 3.9 percent over the same period.
"The resulting dip in inventory and sales numbers on an annual basis tells a tale of a market that is struggling to meet consumer demand in many areas as prospective homeowners scramble to take advantage of lower interest rates," said Ed Neaves, 2020 Illinois Realtors president and managing broker of Berkshire Hathaway HomeServices Snyder Real Estate in Bloomington.
Both data releases came a day after the Fed lowered interest rates by a quarter point, the second rate cut in 2019, and NAR Chief Economist Lawrence Yun noted the two are related. "As expected, buyers are finding it hard to resist the current rates," he said. "The desire to take advantage of these promising conditions is leading more buyers to the market."
At the same time, home prices are also rising. According to NAR, the median existing home price for all housing types in August was $278,200, a 4.7 percent increase from August 2018. However, higher prices appear to be driven by a lack of supply. Total housing inventory decreased to 1.86 million in August, down from 1.9 million for existing homes in July. "Sales are up, but inventory numbers remain low and are thereby pushing up home prices," said Yun. "Home builders need to ramp up new housing, as the failure to increase construction will put home prices in danger of increasing at a faster pace than income."
First-time buyers continue to drag their feet; in August they were responsible for 31 percent of sales, down 1 percent from July though unchanged from August 2018. "Lack of supply in the right location and at the right price is still holding back the housing market," said Ali Wolf, director of economic research for Meyers Research. "Housing pundits are heavily fixated on rates, but buyers are concerned about timing. Consumers want to buy a home when they feel both confident in their financial health and that there's value in the purchase."
Market time was also up. Properties remained on the market for an average of 31 days in August, up from 29 days in July and in August 2018.
In the Midwest, existing-home sales were up 3.1 percent to an annual rate of 1.31 million, which represents a 2.3 percent increase from August 2018. The median price in the Midwest was $220,000, 6.6 percent higher than a year ago.
Overall, the numbers are encouraging, Wolf said. "Existing home sales represent 90 percent of total transaction activity, providing a clear gauge of housing health. Today's positive trend is good for housing and the wider economy. When people buy homes, they are more likely to spend elsewhere in the economy as well."