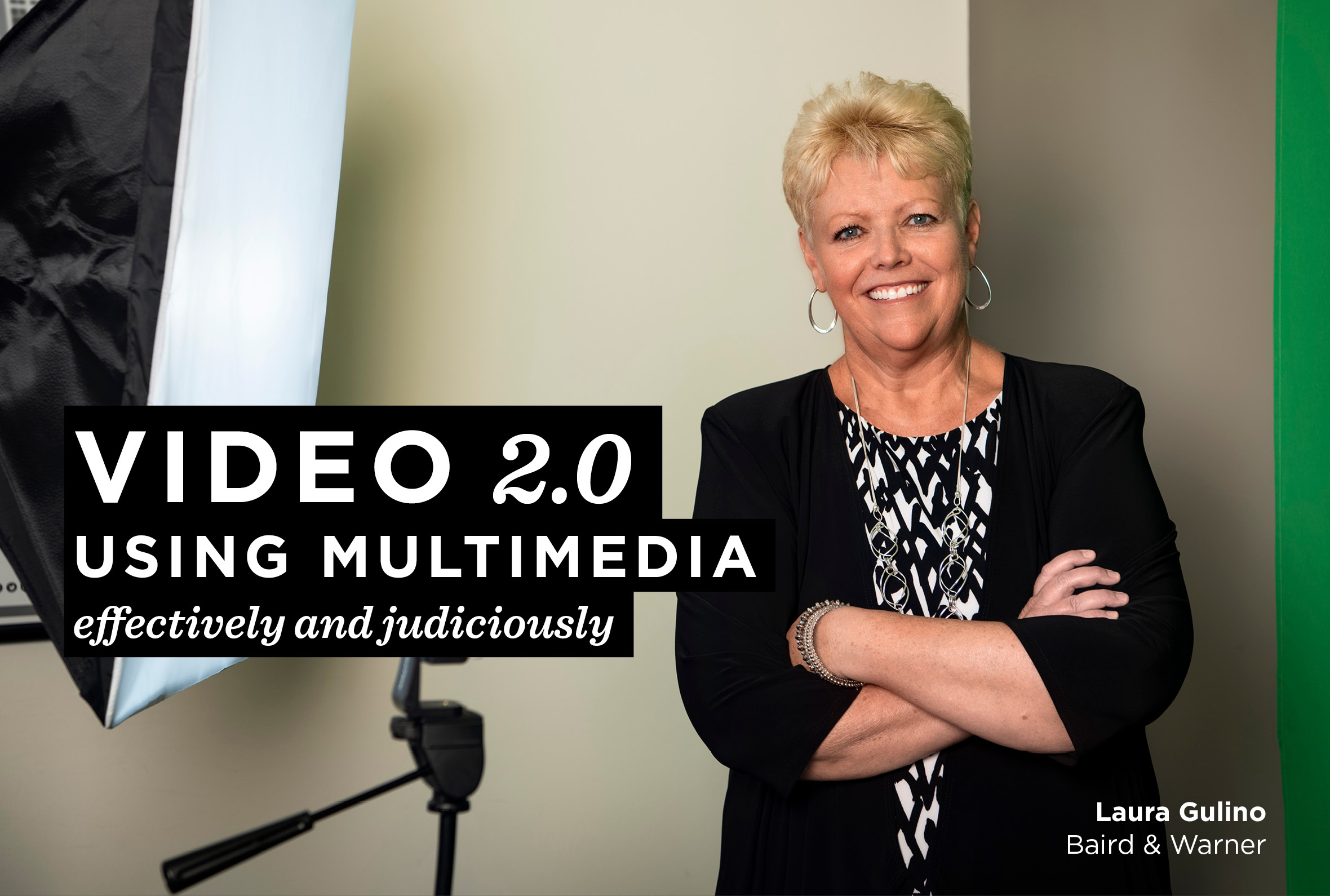 In real estate, an industry that relies heavily on visual motivators, professional videography can be an incredibly powerful marketing tool.
Alongside high-resolution photography and virtual property tours, many agents and brokers are offering property listing videos as part of their marketing packages for home sellers.
But the lights-camera-action doesn't stop there. There are a variety of different types of videos that real estate professionals can use to communicate their brand and business to their audiences online.
While listing videos may help generate interest in properties, short social media videos can boost your online engagement and foster a personal connection; neighborhood tour videos can position you as a local expert; and branding videos can help relay your unique value proposition and what it's like to work with you to your audience.
However, the days of simply posting any old video and seeing high returns on engagement have passed. "It's essential for brokers using video to do it well," said Nobu Hata, director of industry outreach and engagement strategy for the National Association of Realtors. "Very quickly, the quality expected of brands has skyrocketed as even kids on YouTube can handle video really well."
That may be why some of Chicagoland's most creative real estate agents and brokers are using different types of multimedia packages — from DIY videos on Instagram Stories to professionally produced rap videos — to connect with and engage their audiences online.
Living the 'gram life
One of the most accessible ways for brokers to dabble in video is with Instagram Stories, a feature within Instagram that allows users to capture and post images and video content in slideshow format.
---
Also in this issue
The pros and cons of multimedia
Should brokerages create in-house video teams?
Survey: What's keeping agents from using video more often?
The dos and don'ts of using video to market homes
---
Where once agents might have had to spend hours weaving multiple scenes into a narrative, Instagram users can add text, stickers, drawings, emoticons, music and more to their photos and videos to create an immersive experience and author a complete narrative.
While a lot of brokers carefully curate their Instagram feeds to represent their brand aesthetic, authenticity remains vital as this method represents an opportunity to take viewers behind the scenes. "Brokers use Instagram Stories [to share] doses of a day in their life to humanize who they are, what they do and what they stand for," Hata said. "This is a platform where a hodgepodge of videos — from living life with kids, to prepping a listing for sale by aligning all the screws on a light switch plate, to footage of the video crew shooting a home tour, to dinner with the team — can build trust and garner hundreds, even thousands, of views."
Hata noted that authenticity helps make Instagram Stories a relatively foolproof medium: "As long as it's authentically you, there's no wrong way to do this."
Listing videos diversify
While many real estate property listing videos feature footage of a home set to music, leading Chicago brokerages and agents are getting creative when it comes to showcasing properties for sale.
"Property videos can run the gamut from photo slideshows to a steady progression through a house to full-on visual storytelling with voice-overs or actors," said Tony Gnau, founder and chief storyteller of T60 Productions, a video production and storytelling company based in Chicago and Milwaukee.
To Gnau, the best property videos evoke emotion from the viewer and tell a story that appeals to people's senses. "Think creatively about it and do it a little differently," Gnau suggested. "It doesn't always have to be facts and figures. Tell the viewer what isn't in the MLS to elicit those emotional reactions. Get people excited about the property, and ultimately, excited about you."
He added that even though they are designed to market a home, listing videos can serve a dual purpose: "They can help sell a property, but they can also help agents introduce and market themselves to recruit new clients."
Brokerage tools bridge the gap
According to Laura Gulino, assistant manager of Baird & Warner in Barrington, agents today have the tools to create property videos that check both of those boxes. At Baird & Warner, select offices have invested in "do-it-yourself" video studios for agents and brokers to create property and branding videos. The program piloted in Barrington and a handful of offices have since adopted it.
"Today's consumer is quite curious, and video is a way that the consumer can [virtually] meet an agent and view a property," said Gulino, adding that the medium helps agents and properties stand out on social networks. "Video is also the preferred media on Facebook and other social channels."
The Barrington studio is a converted conference room equipped with a green screen backdrop, lighting boxes and a tripod with a smartphone adapter so that agents can shoot their own one-minute-long video, then transpose any image they want in the background of the video.
"Agents love it because they can insert any property behind them. If a house has a beautiful kitchen, they can put the kitchen image behind them to show off the property," Gulino said.
Baird & Warner agents can then edit their own videos using ChromaVid, a post-production green screen app that allows users to create "stunning photography and videos, just like on TV and in the movies," according to the company's website.
Because the videos are shot in-studio, they have better audio and lighting than self-made videos that are shot on-location. The videos can be up to one minute long, a length favored by most social networks, including Facebook and Instagram.
Gulino described the initial investment as "relatively inexpensive" and says that it has definitely paid for itself in terms of adoption and reception from agents.
"[Our video offerings] are a powerful tool for recruiting new agents," Gulino added. "It shows how forward-thinking we are as a leader in the industry. If our agents are successful, we are successful."
'Hi, my name is…'
While property videos can serve dual marketing purposes, agents are leveraging video as a medium to strictly tell their own stories, too. Gnau calls these "about me" or "first impression" videos and says that they can help consumers get to know agents when they are researching online.
Jackie Mack, vice president of sales at Jameson Sotheby's International Realty in Evanston, has found success with this approach. "So many people are looking online to find an agent to help them buy or sell homes," Mack said. "Videos offer the consumer the opportunity to get to know an agent's personality, style and expertise."
One of the videos on Mack's website is a "Meet Jackie" video produced by Evoker, Inc. as part of a series of short films profiling some of Jameson Sotheby's agents.
"Jameson was out in the forefront of the personal video trend," Mack said. "They really got that it was all about personal branding, and they were right. It's worked like a charm for me."
Mack also produces her own videos — with the help of a four-person team — and posts them on her website and social media channels to give people a flavor of what it's like to work with her and to position herself as a local neighborhood expert. She says that in a digitally driven world, it's key to give people the information they need in the way they want to see it.
"When people look online and see those videos, they feel like they know you. When they call you, they already feel like your client," Mack said. "That has immeasurable value."
Going viral
With over 14,000 real estate agents in Chicagoland alone, it is not enough to simply create a video; you need to have a plan to market it. So how do agents know that when they create video content, people will actually watch it?
Mack distributes video through all of the different social media networks "so that wherever people are looking for information, they see it. Be where the audience is going to be."
Another key to creating engaging video content is to make it informative and entertaining. Trinette Lindsey is an excellent example of an agent who is doing this, having made headlines in early 2019 as the "Rapping Realtor" with her promotional rap video about how to buy and sell a home.
"I wanted to be different. I didn't want to be boring," said Lindsey, a broker at Dreamspots Leasing and Sales in the South Shore neighborhood. "I wanted to do something catchy, but what was more important than to sell myself was to actually give information."
The first verse of Lindsey's rap song explains the homebuying process, and the second verse explains the home-selling process. She only really plugs her own business and brand at the end of the video. "It's not just a rap video, but a way to get information out there in a way that makes it fun," she said.
Although some might view Lindsey's viral success as an overnight phenomenon, she spent several months planning, scripting and producing the video with Hyde Park-based music producer Ball On Da Beat and Chicago-based videographer Maksym Zakharchuk.
She launched the video on YouTube and her social media channels and followed up with an extensive media outreach push to local broadcast, print and online news outlets.
Lindsey's investment in the video was under $2,500, but she says that it has already been fruitful, with several new business leads coming in from landlords and prospective buyers. Still, she added that that's when the real work of building and nurturing business relationships begins.
"Three million views doesn't mean three million calls," Lindsey said. "Just because your video went viral does not mean that your work is done. In the real estate business, you truly have to be an entrepreneur, be consistent and build trust in the community."
Being relatively new to the industry, Lindsey said her focus is on producing content that will be useful and educational to consumers. She plans to produce additional video content in addition to pursuing partnerships with local businesses and direct mail marketing. "If you put out good content and remain consistent, you'll start to see a return," she said.