Short-term rentals are exciting to industry insiders and homeowners alike, due to their earnings potential and flexibility. Adding STRs to your portfolio and pitching them to your clients can reap big dividends, but they are not a simple property type to manage.
Condo associations, property managers and neighbors can be aggressively opposed to the presence of any STR in their areas. STR users are more likely to damage units and can be more demanding than long-term tenants. And finally, it's absolutely critical that agents looking to add STRs to their repertoire do their due diligence by researching Chicago's complex regulations and putting in the time to determine which locations and types of rental units will perform best in a competitive market. But learning from seasoned professionals with experience at successfully brokering deals involving STRs and a track record of success is the perfect start.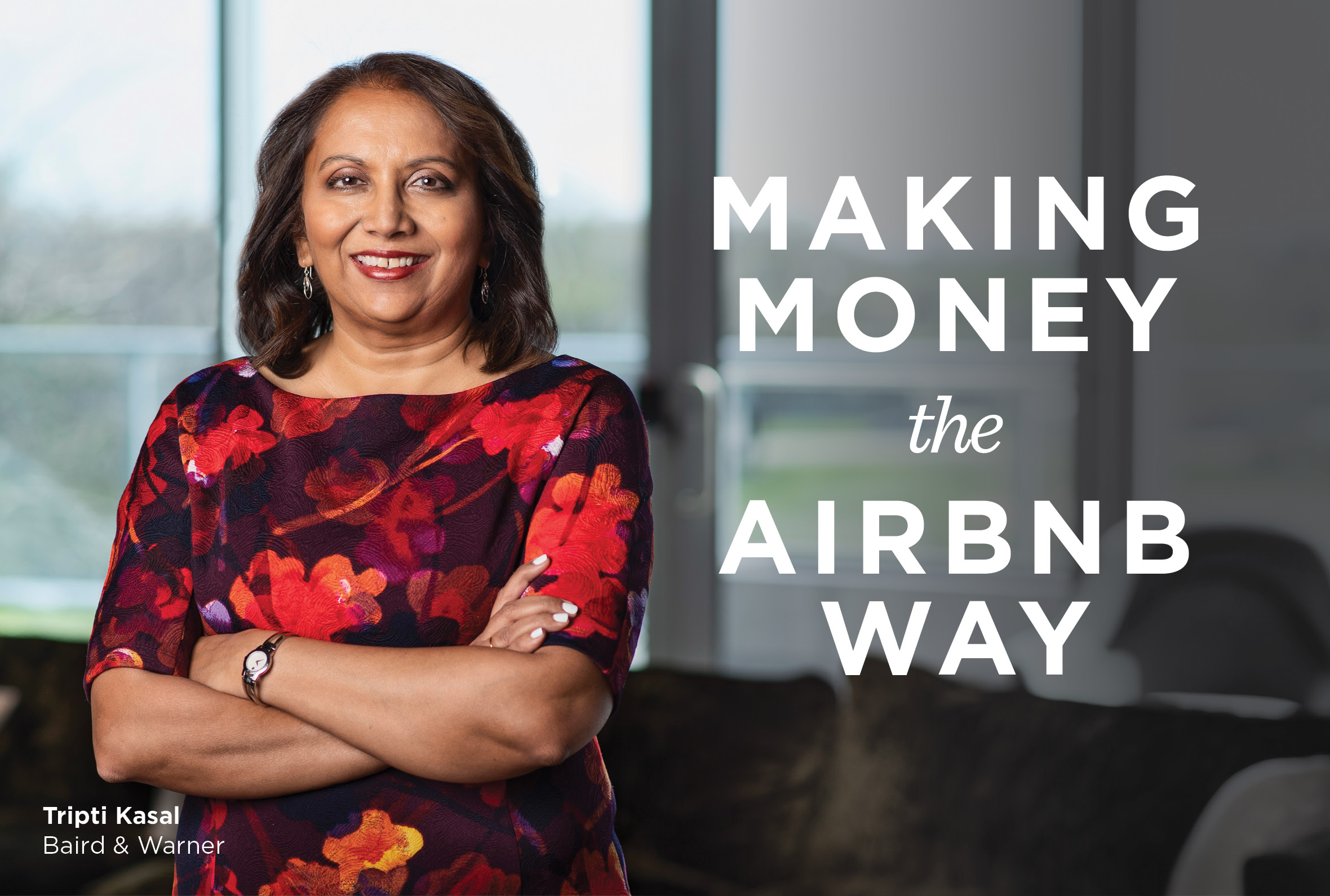 An asset class coming into its own
How did this dynamite product emerge and what are the best ways to get in on the action here in Chicago? Founded in San Francisco in 2007, Airbnb has become a household name by establishing an attractive alternative to expensive hotel stays for a generation of millennials eager to explore cities and stay in unique places bursting with character and authenticity.
From its modest origins as a way for two broke roommates to use technology to rent an air mattress in their living room and subsidize their increasingly expensive rental rates, the STR model exploded in popularity, and by summer 2012, Airbnb reported its 10 millionth night booked, cementing its concept and completely disrupting the hospitality industry.
At a May event hosted by Carrie McCormick of @properties and State Farm, Keith Fenceroy, CEO of Fenceroy Law, walked a packed room of commercial pros through the process of rolling 1031 investments into STRs as a way of maximizing returns and jumpstarting investment portfolios.
According to Fenceroy, more than "7,275 properties [are] being short-term rented in Chicago," and there was a "23 percent annual growth of the short-term rental market" over the last year. He added that STRs yielded $120 million in rental earnings in Illinois in 2018.
Airbnb is the leading company offering STRs in the Chicago market, but HomeAway, FlipKey, Vrbo and others also have a substantial local presence. It's important to get familiar with these companies and leverage their ability to connect STRs with renters. Combining that technology with real estate know-how and street-level knowledge of Chicago can unlock real potential for your business.
Setting up an STR shop
Before moving forward, it's vital to check if the property you're interested in is even viable from a legal standpoint. All STR properties must be registered in the city of Chicago and the surrounding suburbs, and it is simplest to tackle this through municipal sites, which will help you navigate the process and generate registration numbers. Chicago also provides a list of prohibited buildings where residents have chosen not to allow STRs. Furthermore, there are certain precincts around the city, generally zoned RS-1, RS-2 and RS-3, that have short-term home rental bans in place. Aside from the city's list, you can also use a map created by Chicago Cityscape to research investment sites. Though you'll have to pay a small fee to access all the information, it's relatively simple to type in the address you're considering for an STR and check if it's located in a home rental prohibition area .
This is vital information for you as an investor and for your clients, according to Tripti Kasal, senior vice president of sales at Baird & Warner. "If it's on the list, you can't make a recommendation to buy there and shouldn't agree to manage a property on the list," she said.
Alex Cross, broker associate with Best Chicago Properties, agreed, noting the importance of patience. "Chicago definitely presents more barriers to entry than in other investment properties or other cities," he said. But for those willing to do the work, the rewards are more than worth it.
As for picking the right type of property, it's important to remember that STRs come in all shapes and sizes, from spare rooms in a Bucktown multi-unit property to three-story houses in Downers Grove. That's why the first step is often considering your target audience.
"Generally, I think you're better off with properties that have two or more bedrooms," said Kasal. "People often want to travel with groups and one bedroom can limit the number of potential renters."
---
Also in this issue
What do agents really think of Airbnb?
Rules, regs, taxes and mortgage hurdles facing STRs
Deciding between Airbnb and traditional property management
---
Kasal would know. She's been working with an array of STR properties in the Midwest for about 15 years. She focuses her investor clients on locations with good walkability and an openness to the concept. "Of course, I am interested in anything along the lake," Kasal said. "I like Lincoln Park, Old Town and the South Loop." Kasal also looks to properties in Logan Square, Bucktown and Wicker Park along the Milwaukee Avenue commercial corridor, "because there's a lot to do there and people are of the shared-economy mindset."
Friendliness to concepts such as STRs is also vital for Cross. He noted that condo association laws and concerned neighbors can shut down an STR before it gets off the ground.
"You want to make friends with your neighbors," Cross said, "and get on their side by conveying that you are providing a service and don't want to interrupt or cause harm to them."
Brandon Foley, managing broker with Sue Dodge & Associates, agreed about being forthright about your plans. "I'd suggest being on a first-name basis with neighbors," he said. "Don't try to make it a secret." Foley believes friendly neighbors can also help ensure renters aren't causing issues by providing an extra layer of oversight.
"Tell them you have a no party policy, give them your phone number, and if they call with an issue, treat it seriously right away," Foley said. Legitimately working to keep parties out and cracking down on guests who get out of line will help you maximize your bottom line and keep occupancy rates high.
Please don't wake the neighbors
Once you've opened up shop, it's important to maintain neighbors' trust by renting to people who will honor the sanctity of the community. Cross has developed his own vetting procedures to ensure renters are respectful of his STRs and long-term tenants living nearby. Many managers can be too lax about whom they let in and this is part of why STRs get a bad name. As a result, verifying guests are who they say they are and will abide by the rules put into place can reduce conflict with neighbors.
"Always have a conversation with a person," Cross said. He suggested looking at their user profile in Airbnb and reading their reviews, then asking questions about why they're in town and what they do for a living. "You can develop a gut feel where you can tell if someone isn't going to be good business," Cross said, "and when that happens you have to be willing to turn them away."
Cross' red flags include someone booking at the very last minute or for very quick stays, being very short in responses and being solely focused on gaining access to the unit. You can also choose not to allow the "instant book" feature for Airbnb users without past reviews. Another trick is to monitor popular tourist draws like Lollapalooza and never accept a tenant who is under age.
Kasal also advocates for strong screening practices, cautioning never to settle for only the information Home Away, Vrbo and Airbnb provide. "Look into their social media," she said, "and ask additional questions so you can be more certain they'll take care of your property but also be a good neighbor. If you bring in too many renters that are loud or do damage, then you will anger neighbors and reduce the amount of income because you won't be able to rent."
Establish solid rules for renters and share them clearly with prospects. Let them know precisely how many people can stay in the space, any age requirements and proper etiquette for noise levels – especially if your property includes an outdoor component like a porch or balcony, or access to a shared space such as a rooftop or yard.
Presenting properties in the best light
The biggest advantage provided by STRs, and the reason many agents prefer them over long-term rentals, is because of their increased net operating income. And the largest factor driving that profit is occupancy rate. An inability to keep occupancy rates high can kill an STR investment and turn a boon into a boondoggle that can cripple an investment portfolio. Once locations have been scouted and the neighbors are up to speed, it's time book some reservations and ensure a quality guest experience.
"Having good photos and a compelling description makes a huge difference," said Cross. "It used to be, 'Hey I have a place with a two-bed two-bath and an extra room — come stay with me' but now it's too competitive."
Many of the same rules of residential sales listings apply here. Be mindful to show rooms bathed in warm lighting, feature amenities prominently, allow renters to see each room and incorporate engaging descriptions so people can visualize their time there.
"I cannot underemphasize the importance of the online presence and reviews," Kasal said. "You must have professional photography, the property must be properly staged and you need to pay attention to the description —­ which is even more important than a traditional property listing because you've got lots of eyes looking at it."
Even though renters have chosen not to stay in a hotel, they still expect a certain level of quality from their experiences. Furnishings and decor are a crucial detail. Investing in stylish new or high-end vintage couches and chairs can be a real difference maker, as can beds and linens.
"It's a delicate balance with Airbnb in knowing what to buy in a high-quality way and what to buy low-quality," said Foley. "Linens can be costly because they are used and washed a lot more frequently than what you might see in your own home."
Foley prefers to buy higher-quality towels and sheets because he finds few people steal them and the investment is more than made up for by not having to replace low-quality linens that wear out more quickly.
Beds can also get really expensive — especially for STRs offering four or five bedrooms, which is Foley's preferred property type in these cases. He advises spending more on mattresses and bedding and getting innovative with the bedframe. "I've found if you get a cheap, but decent-looking bedframe and then modify it with plywood structural support," Foley said, "then you can create a sturdy thing that will last with only an hour or two of work."
Putting in the time
The biggest challenge investors underestimate is how much work STRs take. "Real estate is rarely a passive investment," Kasal said, "and depending on how many STRs you're managing, it can be a full-time job."
Take advantage of every method available to increase your response time and maximize efficiency. Hiring a quality cleaning crew and paying them well can be a game changer. Because STR schedules are often fluid, your cleaning crew must be available at all times and willing to do a good job no matter the mess.
There are easy ways to save time in responding to renters who have questions, however. Create documents explaining check-in and check-out procedures, tips for nearby attractions and restaurants, and house protocol. Airbnb and its competitors all include a template feature you can use to put these time-savers into practice.
Finally, remaining engaged with your listings will help keep returns high because STRs operate on a volatile supply and demand curve. Looking at events happening months in advance can enable dynamic pricing for high-demand times, and of course it's important to factor in a lull due to Chicago winters. "I probably adjust the pricing on each of my properties at least two to three times a week for 90-120 days out," said Foley.