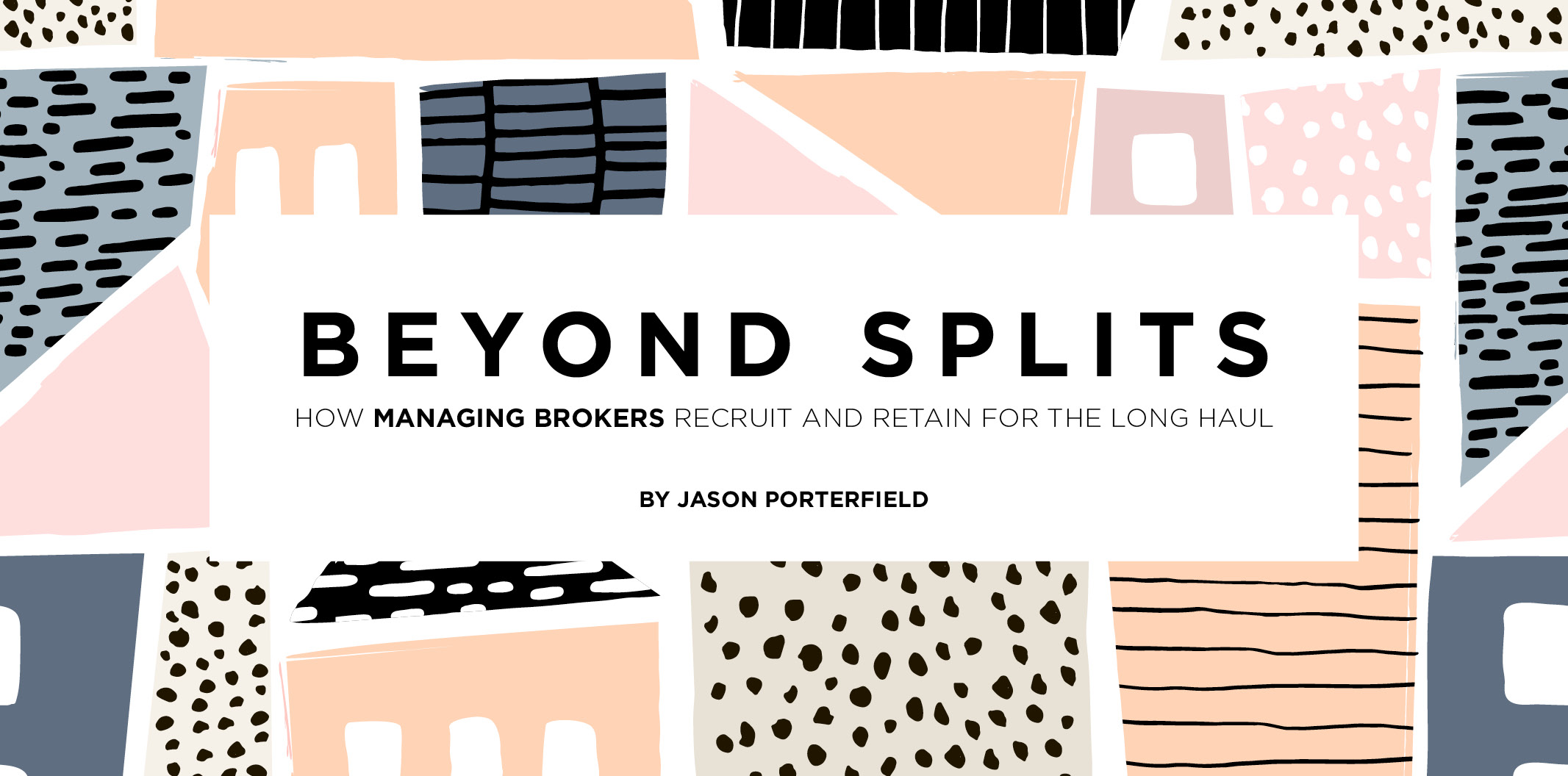 It's no secret: The job of a managing broker is not an easy one. They need to ensure their offices are functioning smoothly, that their agents are productive and that their systems are working as well as possible. They need to provide agents with the support they need, and they also have to make sure clients are receiving the level of service they deserve.
Many of the challenges a managing broker faces can be met head-on by recruiting the best talent available. But recruiting agents isn't always about finding those with the best sales numbers or those who bring in the most money. The ability to fit into an office's culture, adapt easily to the way a brokerage does business and handle clients with care and concern are all factors that matter to successful managing brokers. Bringing in those agents takes an ability to showcase an office's tools and culture in such a way that recruits will be eager to make the transition. And of course, a thorough understanding of the real estate landscape in Chicagoland is also key.
"When I'm meeting with agents, I'm looking for their knowledge of the local market," said Rebecca McDermott, managing broker at Baird & Warner in Schaumburg. "I look at their responsiveness and whether they reach back out to me within a timely fashion. That tells me that's how they're going to reach out to their clients. Obviously, honesty and integrity are important, as well as how they are when working with other agents in the office and then within the market."
First impressions and gut feelings count too. Natalie Carpenter, managing broker at Coldwell Banker in Hyde Park, once had an agent referred to her as a potential recruit for her office. The woman was fairly new to the business and only had a couple of sales.
"She showed up to the first meeting in a business suit," Carpenter said. "That impressed me, because not everyone dresses up for a lunch meeting. She told me she was a top producer. I kept a straight face, and she said, 'I know I'm a top producer. I just don't have the sales yet.' She was very confident, and something about the way she said that and the way she presented herself told me to take a chance on her. I brought her on board and within about a year she was the top-producing agent in my office."
Meet the recruits
There's not a single roadmap to recruiting an agent. In many cases, new agents are recommended by others who already work in the office, or they may be associates of people within the managing broker's personal sphere. Or brokers may encounter agents on the other side of a transaction who make a good impression.
Carpenter typically begins her recruiting process with an informal first meeting, such as a lunch or coffee with an agent.
---
Also in this issue
The 'secret sauce' of allocating a marketing budget
Taking the reins after tragedy
Wise counsel from managing brokers
---
"The more casual setting lets them put their guard down and we can get to know each other a little bit," she said. "I can get a feel for their personality and who they are and whether they would be a good fit. If that first meeting is a good experience and there's interest on both sides, I'll set up a second meeting where they can find out what we offer, and I can ask them about their business and what they're looking for."
Carpenter also researches her potential recruits online before the second meeting. She noted that it's important to understand how they place themselves in the wider business world. "I ask them about their business too because I want to know how they see themselves and how they represent themselves," she said.
A culture that works
A positive office environment contributes to the overall support system and makes agents want to stay with the brokerage. Anne Brahin, managing broker at @properties in Winnetka, described her company as one that's always working to improve its culture so that agents feel supported and want to come into the office.
"It's a fun place to work and we really care about our relationships with our brokers," she said. "Everything kind of spills over from that and making them feel appreciated. It could be congratulating them on a closing with a Starbucks card. We do mani-pedi parties; we have lunch; we have happy hours. We have a North Shore movie night. We raffle off a lot of things at various meetings. We come up with reasons to recognize people other than just volume or top sales."
But a good variety contributes to a healthy office mix as well, and it's important to avoid thinking of culture as a monolithic trait that should be ascribed to all agents. "You could have three hot producers that are all super successful, but they all have different styles," Brahin said.
Friendly competition
Most real estate agents are competitive by nature in one way or another. Some are driven to outperform their colleagues, both those in the same office and agents who are with different firms. Others may be more focused on beating their own numbers from the previous year or on reaching a particular goal, whether it's a certain number of transactions completed or a dollar amount.
Brahin noted this tendency is built into the structure of the job. "They're all independent contractors," she noted, adding that fostering a healthy competition in the office can be helpful for personal growth. "It's not uncommon for some of our agents to go up against each other. I think it's a great opportunity to grow and become the best agent you can possibly be and make it your own."
However, it's a delicate balance. And in some offices this competitive spirit can spill over to create an uncomfortable or tense dynamic among agents. A skilled and attentive managing broker can turn that competitiveness into positive energy for the office. Encouraging agents to take their individual business to the next level can work hand-in-hand with fostering a spirit of collaboration that helps elevate everyone in the office.
"A good salesperson is going be competitive with other agents or with themselves," Carpenter said. "I want them to be competitive, meaning I want them to grow their business. I want them to say, 'Okay, wherever I am, whatever I'm doing now, I want to go to the next level.' But I also look for people who I feel will be collaborative and team players."
Competition and collaboration go together well in the right setting. Part of recruiting the best agents is finding those who have a hunger to succeed and be the best in the business, but also a desire to work together.
"We achieve more when we share what we know," McDermott said. "I was an agent myself for over 20 years, so I understand it from the agent side. Now, as a managing broker, I don't compete with my agents. I'm here to coach, mentor and train my agents. We work together and we work at collaborating. My top producers work with the newer agents on their presentations, so it's very healthy."
What brokerages have to offer
An impressive selection of tools and resources gives managing brokers an edge when it comes to recruiting. But how well they explain such assets sets managing brokers apart, in terms of their success in bringing on new agents.
McDermott said her agents — both rookies and veterans — often cite the educational and marketing tools Baird & Warner provides as key factors in deciding to join her office.
"Training provides [newer agents] with an understanding of how to run their real estate businesses," she said. "Seasoned agents usually know how to run a business but are looking for more support and advanced training. Our training is done in-house, so the turnaround time is next-day and high quality. It's truly point-and-click, and it frees time in their day to focus on doing what they do best."
The element that top production numbers and office tools have in common is that both help agents secure new business, especially on the listing side. "It's about finding a way to make yourself stand out at the listing presentation table or with buyers, showing why people should work with you, and what's your value proposition," Brahin said.
Holding on to top talent
Recruiting the right agents can be a time-consuming task, but the payoff is obvious once they settle in and start producing. At that point, the focus shifts to keeping agents who are both productive and a good fit for the office culture. Those agents may be highly sought after by other brokerages and managing brokers need to be prepared for the fact that other leaders may try to recruit them.
McDermott doesn't have much experience with having agents spirited away from her office but believes each case must be considered on an individual basis.
"If it's an agent who's not clicking, it's the same with any relationship," she said, noting that it's important to identify the signs of an unhappy associate early and take action. "You just put more effort into it and find out what they're looking for, what they need and what's important to them. If it's something maybe I need to take a look at, I try to determine what I could have done better. "
The value proposition
A complaint about splits is often found to be about so much more, if managing brokers dig deep in their conversations with their associates ­­— something McDermott is sure to do whenever such discussions come up. "It becomes about finding out the reasons they would want to go somewhere else. And then it's about, 'Let's take a look and find out what we can do,'" she said.
Agents may want to leave because they're lured by new tools that could help them grow their businesses. But in some cases, they may already have access to those tools or to similar ones and simply not realize it. It's important for managing brokers to underscore what's available on a regular basis, since agents' business needs will inevitably change over time. They may not have needed certain marketing tools as a rookie that they now can't live without as a top producer, for example.
But more than just making agents aware of the resources at their disposal, managing brokers can also help them get started with those tools or set up training sessions to help them understand how to use what they have more efficiently.
Carpenter continuously talks to her agents about what her company offers. She'll ask about tools or support they need to be more successful. Whenever possible, she'll set up training for them.
"If it's about commission, I'll point out what we offer and talk about value," she said. "The grass often looks greener on the other side, but it isn't always. They may be looking at a place that offers higher commission or even 100 percent commission, but the value isn't there when they factor in all the things they have to do for themselves that we do for them."