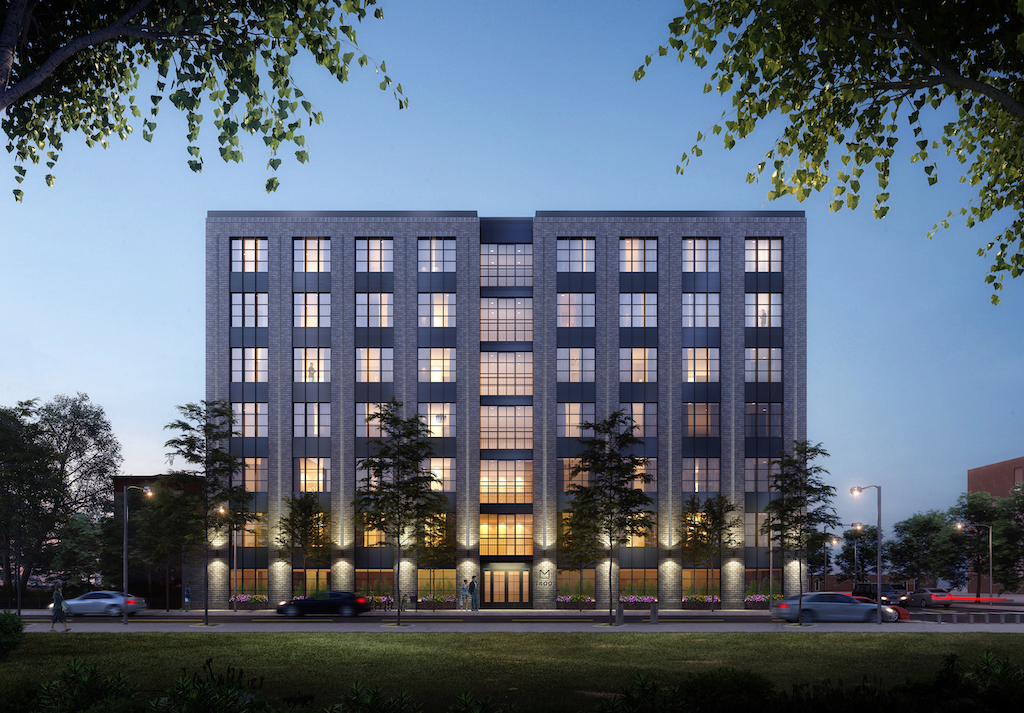 Exciting new construction at a great value is coming soon to the West Loop, and now is the time to get in on the ground floor.
Expertly designed from the inside out, 1400 W. Monroe is slated to be a family friendly boutique development overlooking historic Skinner Park in the trendy West Loop. It promises to fulfill all the must-haves on your clients' wish lists while answering the call for more affordable housing in the city.
Construction will begin this fall and be completed by late 2020. In the meantime, units will go on sale in April. Priced from the low $600,000s to $1.3 million, the seven-story, 42-unit condominium will offer young professionals, families, move-up buyers and empty-nesters unobstructed park and cityscape views in nearly every direction, with ample parking onsite.
The project is being delivered by JK Equities, the same developer bringing 1000M to Michigan Avenue. The property currently on the lot was once an acute care facility and will be demolished to make way for this new development. "We stand behind all the work we do and try to offer an exceptional product and value," says Jordan Karlik, principal at JK Equities in Roslyn, New York.
Prime location
Whether you're an attorney or work in the tech industry, it's an easy walk or short bus ride away from the Loop. Public transportation, Randolph Street's restaurant row, the West Loop library, Mariano's, Whole Foods and major employers — such as McDonald's, Dyson and Google — are all nearby.
But the largest geographical draw might be for the littlest residents, according to Karlik: "The biggest selling point is Skinner Elementary, which serves students from pre-K through eighth grade. We joke that the school is included in the purchase; it's a major factor for young families." Both Skinner Elementary and the prestigious Whitney M. Young Magnet High School are both located across the street.
Close to greenery
The developers sought to keep assessments low, so the building is not rich with amenities. But it doesn't have to be, located as it is directly across the street from Skinner Park, a 7-acre wooded paradise featuring athletic fields, a community demonstration garden, tree-lined trails, a playground, water sprayers and a picnic grove. A gathering place for family movie nights, after-school programs, summer camps and fall pumpkin picking, Skinner Park has something for everyone. Pet owners will be happy to know there is also a dog park located across the street.
"We want our buyers to be happy with the place they live and hopefully live there for a long time," Karlik says. "The market is micro-location driven, so a good project in a good location that fills a need will do well at this stage in the cycle."
Thoughtful design
A warehouse-chic exterior of gray brick, paired with large-format, operable windows encased in steel, creates a quintessentially industrial look that fits in perfectly with the neighborhood.
"We designed this from the inside-out," says David Wolf, president of ON Collaborative, the development, sales and marketing division of Coldwell Banker. "We thought about the floor plans first and then created a beautiful exterior."
Thanks to technology, a doorman is not needed in this building. Guests will appear on video, and residents can let them in using their smartphones. The innovative lobby, featuring stone finishes, a living green wall and artwork, will have receiving areas for packages, cold storage for grocery deliveries, a self-serve dog wash area and dry-cleaning drop-off and pick-up. Residents will be notified of deliveries via text.
Expansive living spaces
Inside, modern interiors by New York-based architecture firm Mojo Stumer display the latest trends in home design and efficient uses of space. Homebuyers will choose from light, medium and dark palettes for cabinets, countertops, tile and wide-plank wood flooring.
The units range in size from 1,200 to 1,800 square feet, giving buyers a choice between two-bedroom condos with two bathrooms and three bedrooms with two-and-a-half to three baths. The third bedrooms are designed as flexible spaces that can also be used as family rooms, offices or libraries. For buyers wanting even more space, Wolf says options for combination units at the top of the building will be available.
The well-appointed master baths feature glass shower enclosures, stone finishes, integrated medicine chests, and closed-off areas for showers and lavatories. Secondary bathrooms have bathtubs to accommodate children, while third bathrooms typically feature a shower instead.
All units will be equipped with high-efficiency furnaces and air-conditioners, smart-home technology and many additional upgrades. "It's definitely a notch above everything else on the market," Karlik says.
Open-concept floor plans
Each room in the light-filled, open-concept floor plan flows into the next, making way for oversized kitchens with large pantries, islands, wine coolers, Thermador stainless steel appliances, direct vent hoods and Kallista plumbing fixtures.
Spacious living rooms are ideal for entertaining guests or spending a quiet evening at home with family. Designed for real life, the units will have an abundance of storage space for coats, clothes, toys, strollers and household goods, Karlik says. Extra storage will be available within the building. In addition, almost every unit has a large outdoor private space, perfect for a grill and full set of table and chairs. Even better, some of the terraces are big enough to function as outdoor living rooms.
"We make great effort to ensure sound attenuation, from floor to floor and vertically throughout the unit, will be robust," Karlik says. "You won't hear neighbors' footsteps or neighbors' kids crying. We try to think of all the little details and provide solutions for any potential issues these tenants may have that we've seen in city living in the past."
JK Equities is hosting a big unveiling for the brokerage community on March 20 and a public grand opening in early April. To learn more about 1400 W. Monroe, visit 1400-Monroe.com or stop by the sales center at 33 North Morgan for a virtual tour.