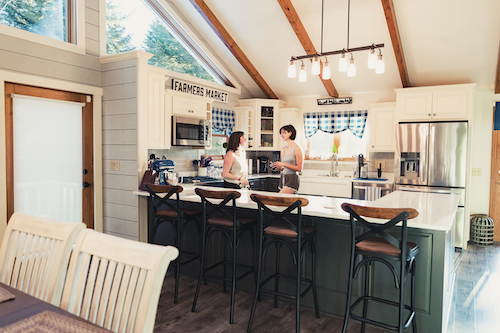 Agents warn of misleading listing photos
Has photo retouching gone too far? Some brokers and buyers think so, according to a feature in The Wall Street Journal this week discussing the growing popularity of simple photo editing tools used for home listing images. While technology is always improving to expand what can be done with media manipulation (without much technical skill on the editor's part), photo editing can present a thorny issue for real estate professionals.
According to the article's sources, more home shoppers are reporting online listings with photos that are clearly doctored beyond cosmetic retouching. One service mentioned can take an agent or owner's interior photos and change the paint color or even flooring material. Software used to scan images and spot fakes has been deployed on popular listing platforms, but experts say the most flagrantly deceptive practices are getting harder to catch.
This creates a major issue for property investors, who often buy homes based solely on listing photos without visiting in person. Some consumer advocates also say virtual staging services, which can insert renderings of furniture and appliances to fill out a vacant house, are tantamount to fraud, too. Ultimately, some argue the real estate industry's stance on listing photo retouching hasn't been keeping up with the technology.
Sotheby's rolls up brokerage and affiliate network
Sotheby's International Realty announced in a March 5 press release that it would be restructuring its business by combining its franchise network and its self-owned brokerage business under one roof. Sotheby's, itself a subsidiary of Realogy, will be helmed by Philip White as CEO, who led franchise operations for five years, while in-house brokerage chief Kathy Korte will transition into "an advisory role focused on business growth and agent support."
Sotheby's currently counts about 22,500 agents throughout 990 offices worldwide between its wholly owned brokerage and its franchise locations. The company said 2018 was its best year on record, reporting a global sales volume of over $112 billion.
Douglas Elliman reports 2018 results
Nationwide brokerage Douglas Elliman reported a total transaction volume of $28.1 billion in 2018, representing 44,131 sales and rentals closed last year. That makes Douglas Elliman the No. 3 residential brokerage in the U.S. by volume, and is an 8 percent increase from the firm's 2017 figures. The company released the sales figures during its annual awards ceremony, "The Ellies," at the Mohegan Sun resort in Connecticut.
Home insurance claims for water damage rising
Around 2 percent of U.S. homeowners, or one in 50, filed an insurance claim related to water damage each year between 2013 and 2017, according to an analysis by insurance data firm Verisk. That rate has been on the rise while the cost of claims made for other types of damage covered by homeowners insurance has declined. Insurance industry experts who spoke with The Wall Street Journal said the surge in water damage claims may represent a serious yet underappreciated problem. Verisk estimated insurers paid out a total of $13 billion for water damage claims alone in 2017. While the average individual water damage claim was valued at around $10,000, one firm specializing in high-end homes said it had seen the number of water claims costing more than $500,000 double since 2015, while those costing more than $1 million tripled in number. One culprit behind the deluge: an aging housing stock with old pipes combined with increased water usage.