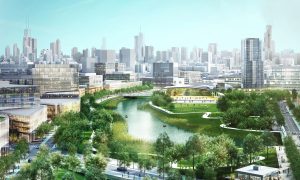 Lincoln Yards development gains TIF district
The Community Development Commission voted 10-0 on Tues. March 19 to support the Cortland/Chicago River TIF district. This decision would provide up to $900 million in tax increment financing for infrastructure around and part of Sterling Bay's Lincoln Yards development, according to the Chicago Tribune. This would include features like bridges, roads and public transit. With the decision, the city would also be able to provide $400 million in tax-exempt bonds to help with building costs of roads and bridges. This decision still needs to be approved by other committees before passing a vote by the city council.
Ford City mall goes up for sale
The Ford City mall on the Southwest side is being put up for sale. The mall, once owned by billionaire Sam Zell, was sold to iStar Financial about seven years ago, after losing three of its department store tenants, Crain's reported. Vacancy is at 30 percent and the remaining department store, JCPenney, is in danger of shutting down as well. Zell bought the property for $75 million in 1987.
Leasing available at the Field's Lofts
Leasing at The Field's Lofts, at 4000 West Diversey Avenue in Avondale, will begin in April. The project is part of a mixed-use redevelopment project of a former Marshall Fields warehouse by Chicago-based Hubbard Street Group. The 123 units range from 540 to 1,330 square feet and rents run from $1,495 to $2,395 per month, according to Block Club Chicago. The complex will feature a yoga and meditation studio as well as a fitness center and a cafe/lounge.