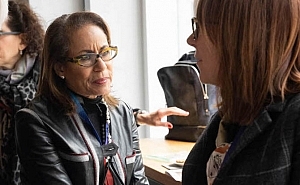 Is your brokerage getting in the way of your personal brand? At the PHS Luxury Conference 2019 at the Merchandise Mart earlier this month, Diane Primo noted that while it's natural for company leaders to discourage their associates from defining their personal brands, those who do the opposite will reap the benefits.
"It accelerates a company's growth and value in the marketplace," said Primo, founder and CEO of digital integrated communications agency IntraLink Global, speaking before a gathering of agents, brokers, designers, builders and other professionals focused on the luxury real estate market Feb. 6. "Employees tend to have higher engagement and followers than companies."
Primo told attendees that a personal brand has the potential to be bigger and more meaningful than a company brand, even for Facebook Chief Operating Officer Sheryl Sandberg. "She said, 'I want a platform that's bigger than Facebook.' Her brand is Lean In," Primo said, in a reference to Sandberg's best-selling book and nonprofit organization of the same name. "There's a reason why, when [Congress] came after Facebook, they initially sent Sheryl."
However, there is a caveat in this realm for real estate teams to be aware of when creating their own advertising. The National Association of Realtors has put out guidelines that note regulators are on the lookout for teams that do not clearly identify their associated brokerages, with the concern that this practice gives consumers the impression that the team is a brokerage itself. Some states have used existing license laws to regulate teams, and others are now enhancing these laws to assure the broker's name is prominently displayed in all advertisements. Illinois doesn't have laws specifically governing team advertising, but the Illinois Association of Realtors is working on some proposed initiatives ahead of 2020, the year the state license act sunsets, that may come out this legislative season. They say they plan to deal with some of the common advertising issues that regulators have been on the lookout for in recent years, including team marketing.
In order to boost their personal standing online, Primo suggested agents build up their "credential war chests" by pursuing validation from outsiders in the form of awards and accolades. Agents should should also ensure their Yelp profiles are accurate and up-to-date, and ask past clients to leave reviews. "Those Yelp stars actually mean something," Primo said. "Google gives you a higher ranking if you have testimonials."
Part of the reason for this shift toward personal branding has to do with a thirst for authenticity in marketing, but Primo said the other factor has to do with cost. "In the old days, you couldn't build a brand for less than $15 million," she told attendees. Still, she added that while branding costs have come down significantly in the age of social media, a major investment of time, energy and funds is still required. "This costs money, guys. And you have to stay with it for years."