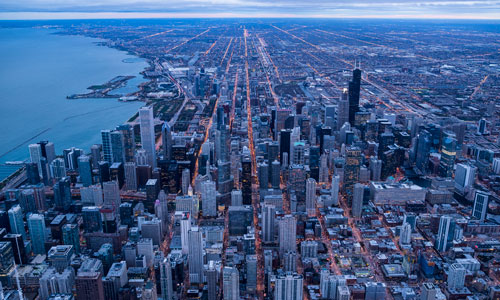 Catching the eye of residents and companies across Chicago is Sterling Bay's new development project, Lincoln Yards. The 70-acre riverfront space is estimated to cost over $5 billion for the construction of apartments, condominiums, hotels, retail space, parks and more.
Lincoln Yards will stretch between North and Webster avenues, fitting in between Lincoln Park to the east, and the I-90/I-94 to the west. The name is a tribute to the land's industrial past as a railway hub and manufacturing core for Chicago.
Sterling Bay has proposed a new Metra station, the expansion of river taxi services, Divvy bikes, shuttles to and from the CTA stops, and an extension of the 606 elevated trail. Of the 53 acres already owned by Sterling Bay, over 13 acres have been set aside for plazas, squares and parks. Sterling Bay also received approval for building a skyscraper as tall as 800 feet, equating to roughly 70 stories.
Within Lincoln Yards, a skate park under the Kennedy Expressway and a dog park next to the river are depicted in Sterling Bay's development mockup images. The proposed development also includes a 20,000-seat soccer stadium with a retractable roof. Parks, pedestrian bridges, sledding hills, and retail stores are all planned to replace the vacant, industrial lots.
Lincoln Yards is not only designed to attract residents, but also Amazon. One of five Chicago-area locations visited by Amazon, Lincoln Yards may be a contender for HQ2, the second headquarters of Amazon that promises to produce 50,000 office jobs.
Other major figures are getting involved in Lincoln Yards' entertainment, with concert venues by Live Nation Entertainment and a United Soccer League franchise owned by Chicago Cubs owner Tom Ricketts.
While some seem excited to hop on board, plans unveiled at Lincoln Yards' first public community meeting were met with mixed feelings. Alderman Brian Hopkins, 2nd, along with other outspoken community members, have expressed their concerns about Sterling Bay's lack of detailed information regarding Lincoln Yards. Mockup images of beautiful shopping centers can be exciting, but neighbors and residents are looking for specifics.
Some community members have felt Sterling Bay has shut the public out of their decision making and been unclear on their vision. With an estimated 5,000 homes and 23,000 jobs coming to the area, concerns involve traffic, adequate parking and lack of resources. Without these details taken into consideration, resources in surrounding neighborhoods could be drained, spreading community necessities too thin. With Sterling Bay's housing estimates, Lincoln Yards could bring around 375 school-aged students to the area, greatly increasing the demand for schools in the area.
Before Sterling Bay can begin construction on the project, it will need the signoff of the full city council along with Hopkins.