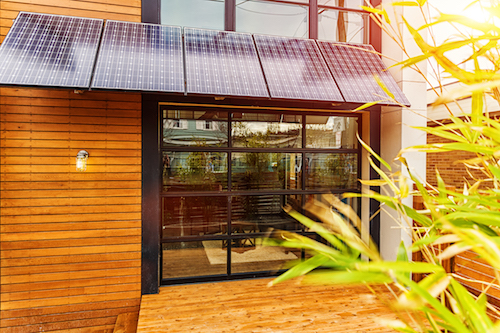 Not long ago, green homebuilding was generally considered a niche market. But consumer expectations around home energy use, resource conservation, indoor air quality and select amenities have turned the green building "trend" into a standard for new homes.
That's great news for buyers, who can now rest assured that just about any new home they find earns high marks on key components of sustainability. But for builders and brokers, it means the competition is only growing. It's no longer enough for builders to boast their sustainability credentials — green builders need to prove they can compete on price, features and perhaps most importantly, on the quality of the entire experience.
Green builders can't get by on the basis of flashy features and appliances anymore. Jarrett Svendsen, managing broker at Brightleaf Realty in Hinsdale, says Brightleaf can still compete on price and build quality by designing for utility, which often runs parallel to sustainability.
"We keep our homes affordable relative to standard new construction," Svendson says. "A lot of green builders focus on buying the most expensive solar panels or something, when there is much more you can do to reduce cost and increase efficiency."
Brightleaf homes are usually designed so that the living spaces and bedrooms face south, allowing for more natural light. The homes are tightly insulated with blown-in cellulose, which offers some advantages over typical fiberglass, and the framing is designed to provide as much coverage as possible. Custom ductwork, tankless water heaters and Wi-Fi enabled smart devices all result in dramatically lower utility bills, Svendson says, but there is still one factor Brightleaf can't control.
"Any home, even a green home, is only as sustainable as the person who lives there," he says.
Building an agent relationship
From working with an agent to secure a lot to implementing the perfect design to all the problems that can arise as the home itself takes shape, there are many aspects of new construction that make it an unappealing ordeal compared to buying an existing home. That's true across the entire homebuilding market and applies to the sentiments of buyers as well as agents.
"When agents think about new construction, they get a little nervous because they do not get paid until the end of the project, which is usually not well defined," Svendson explains. He can relate to that anxiety, having previously worked as an agent selling new construction.
"Whenever I had a client interested in new construction, it was scary for me because there is a lot that can go wrong," he says, and not just because of missed deadlines. "Some development companies want to kick agents out of the process to maximize their profits. We want to develop more of a collaborative effort because agents are the foot soldiers, they are bringing the people who want to buy or build."
To that end, Brightleaf focuses on streamlining the new construction buying process for agents as well as their clients. Through its Realtor Partnership Program, Brightleaf offers agents a 3 percent commission when they bring in a client who wants to build a Brightleaf home. That commission is paid as soon as the first installment of the construction loan clears.
Brightleaf effectively takes over from there to work with the client on securing a lot if needed and designing the home, but agents can stay as involved as they want throughout the process. Svendson says the company has also worked with agents selling listings that would be good candidates for a teardown — Brightleaf will co-market low-price listings and offer the same commission if a buyer ends up purchasing it and building a Brightleaf home on that lot. Both buyers and agents can use Brightleaf's web platform to track and manage key aspects of the process and keep in close contact with everyone involved.
"Since we handle everything, it's less time consuming and they end up making more money, with more time to pursue more clients," Svendson says. "The Realtor has more influence over the buyer than anyone else in a new construction deal. We want to be a resource to them, as well as make sure they are paid."