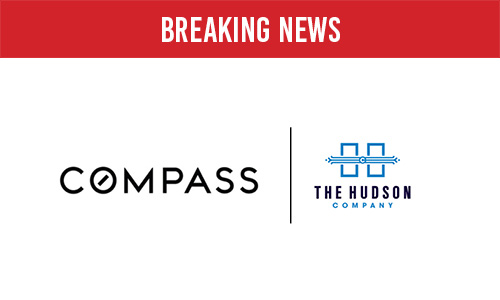 Compass today announced its acquisition of The Hudson Company, a Winnetka brokerage serving Chicago's North Shore.
The acquisition marks another step toward Compass' goal to open 70 new offices around the U.S. by the end of the year. With the addition of The Hudson Company, Compass now boasts a roster of some 350 agents in the Chicagoland area who represent a combined $1 billion in sales over the last year, according to the company's press office.
"Compass' focus on arming their agents with best-in-class technology and support resonates with our commitment to continually providing the best possible service and advice to our clients," said Steve Hudson, co-founder of The Hudson Company, in a press release. "Joining Compass' impressive Chicagoland team and national network of luxury brokers opens an array of new opportunities for our agents. We look forward to extending the reach of our clients' listings to Compass' 4,000 top agents across the country, and continuing to help our agents grow their business."
The Hudson Company was co-founded in 2001 by Steve and his wife Joanne Hudson. Included in its list of agent talent is Paige Dooley, who regularly ranks among the top-producing agents both in the greater Chicago area and nationwide.
Joanne and Steve Hudson hope to capitalize on the national reach and resources Compass provides while still bringing the same high level of service to their Chicago-area clients.
"We strongly believe in supporting our brokers as much as we do our clients," Joanne Hudson said in an interview with Chicago Agent magazine. "Compass is committed to providing that same level of support. It's refreshing to talk people who understand that approach."