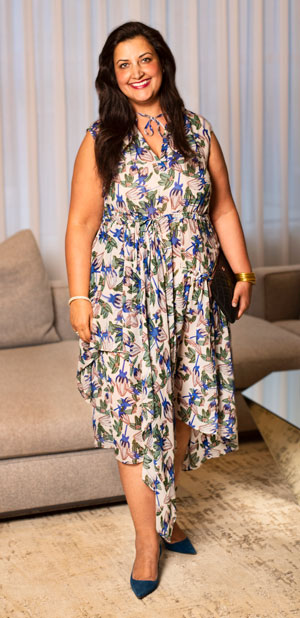 Number of years in real estate: 10
Describe your look: I'm not sure I have a real look. I would say it is classic and professional. I like beautiful and simple dresses that make me feel confident.
What do you consider a "fashion don't"? Shoes make or break an outfit. I don't think people realize how important it is to wear the right shoe with an outfit. It tends to be something people notice first.
What is your favorite piece of clothing and why? I love dresses. I think they are just comfortable, polished and professional.
What do you consider a must-have accessory? I love a great handbag. I think it is one of the most important accessories. I love Celine and Chanel, so I gravitate to those two designers for day and evening.
What is a fashion crime you have committed in the past? Wearing too much layering. It is not for everyone!
Where are your favorite places to shop? I like to support young designers, so I tend to shop a lot in NYC, but in Chicago I love Nordstrom, Neiman Marcus and J.Crew. Being in a service-oriented industry, you have to appreciate unparalleled customer service.
What, besides your wardrobe, completes your look? I feel that a fabulous handbag and a great pair of shoes really finishes a look and shows a sense of style.
What is in your bag/briefcase? Besides a computer, I have my client notebook, Tom Ford lipstick, business cards, gum, and lots of cool and textured little bags made of fur, canvas and leather. I love to compartmentalize things so I can find them.
My closet is full of… Black. I lived in NYC for ten years, and I can't seem to get it out of my system. It can easily take you from day to evening, which we do a lot of in this business. How can you go wrong with black?
Dress: Christian Wingnants from No.6 in NYC; clutch handbag: Chanel, Michigan Avenue; gold bangles: Second Floor Studio, New Delhi; diamond bangles: personally designed; shoes: Peacock suede pumps from Monolo Blahnik at Nordstrom