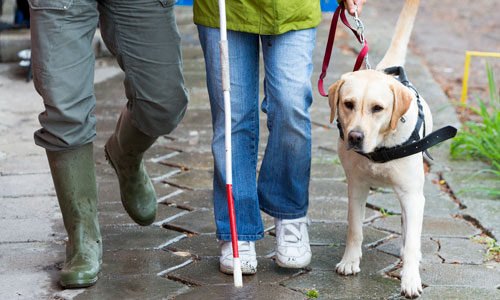 Article by Mainstreet Organization of Realtors
Assistance and emotional support animals have been making headlines recently — from controversy around airlines' policies to questions of whether kangaroos qualify as service animals (they don't). It can be confusing to know what's real and what's fake when it comes to service and emotional support animal laws.
As a Realtor, you've likely encountered questions regarding the use of service or emotional support animals in homes. What rights do people with disabilities have when it comes to finding housing with a service animal? What's required of landlords or homeowners associations (HOAs)? To commemorate the 50th anniversary of the Fair Housing Act this April, the Mainstreet Organization of Realtors held an event, Demystifying Assistance Animals and Emotional Support Animals, to help local landlords and real estate professionals understand the rights of people with disabilities. Suzanne Truedt, Realtor at Realty Executives and Canine Companions of Independence, and Anne V. Houghtaling, executive director of the HOPE Fair Housing Center, spoke to the group.
What are service or emotional support animals, and what are the laws around them?
According to the Americans with Disabilities Act (ADA), a service animal is "individually trained to do work or perform tasks for someone with a disability." Under the ADA, only dogs and miniature horses qualify as service animals. You've probably seen guide dogs assist people with visual impairments, but service animals can also help people with wheelchairs or conditions like multiple sclerosis or Parkinson's disease, where they may need assistance with tasks like opening doors.
Service dogs are trained from the time they are puppies to understand basic commands necessary to later assist people with disabilities. Once they're paired with a partner, they learn commands specific to that person's needs. In a housing context, someone may need assistance opening a refrigerator door or pushing an elevator button.
People with service or emotional support animals are protected under either the ADA or the Fair Housing Act, depending on where they're being accompanied. ADA protections apply to public places like hotels, airports and grocery stores. The Fair Housing Act, on the other hand, doesn't protect individuals in public, only in a housing context. Additionally, only the Fair Housing Act protects people with emotional support animals — the ADA specifies service animals only.
The Fair Housing Act, which protects people with disabilities from being discriminated against in the homebuying or renting process across the country, requires landlords or HOAs to provide reasonable accommodations for people with disabilities who want to use service or emotional support animals. That means landlords or HOAs must waive a no-pet rule or pet deposit under the Fair Housing Act, as these animals aren't considered pets.
Navigating service and emotional support animals as a Realtor
As a Realtor, there are various steps you can take in the homebuying and homeselling process to make sure everyone is complying with the Fair Housing Act.
Under the Fair Housing Act, a homebuyer who has a service or emotional support animal has the right to have that animal in their home. They don't need to search for a specific home or area; landlords or HOAs needs to accommodate their needs. If for some reason a landlord or HOA has a no-pet rule, the homebuyer should make a request to the housing provider to use their service or support animal. Also, if a landlord or HOA reaches out to you for verification regarding the buyer's disability, make sure to tell the buyer that the housing provider is requesting verification, not you.
If you're working with a homeowner or landlord, suggest they sell or rent to the first qualified applicant they receive. One way to manage this is to timestamp applications as they come in. This way, they won't be accused of discrimination for passing up a potential buyer or renter because of their service or emotional support animal.
If someone has an obvious disability, like using a wheelchair, remind landlords or HOAs that they shouldn't inquire further about the extent of their condition — that's a violation of the Fair Housing Act. However, some disabilities, like relapsing-remitting multiple sclerosis, aren't immediately clear. In cases like these in which the buyer or renter requests a service or emotional support animal, a landlord or HOA may request only necessary information to confirm that person's disability and need for the animal. This verification can come from a doctor or from another source like a support group or counselor.
It may be helpful for you to get to know some organizations that breed and train service animals, like Canine Companions of Independence. Understanding how people are paired with their service animals and how these animals assist them in their homes can be helpful when working with homebuyers and sellers with disabilities.
Though uncommon, there are situations where landlords or HOAs cannot physically or financially accommodate the animal. In these cases, housing providers should discuss with the tenant or buyer whether there's another way they can accommodate the person's disability. Often, landlords or HOAs will have to offer another modification so the person can fully use and enjoy their home.
If the landlord, homeowner or HOA board you're working with has questions about accommodating a tenant or buyer's service or emotional support animal, they should consult resources and guidance from Department of Housing and Urban Development, the Department of Justice or organizations like the HOPE Fair Housing Center. If you're working with a homebuyer who feels they're being discriminated against, they may have the right to pursue legal action, and should consult these resources as well.