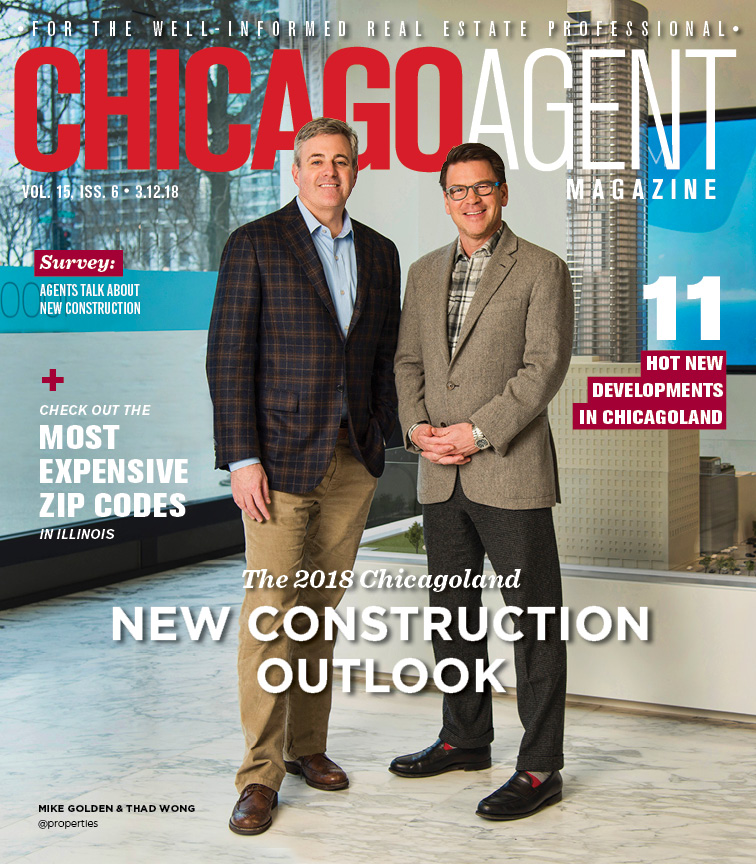 What's in store for Chicagoland new construction in 2018?
According to the developers we asked, the answer in the city is mostly high-end, luxury condominiums priced from $1 million on up in the trendiest locations. To woo potential buyers, developers are putting designer labels on their properties by partnering with celebrity architects and world-renowned interior designers who offer a variety of layouts and finishes for their projects. Posh amenities — state-of-the-art exercise facilities, full spas, indoor golf simulators, music rooms, private restaurants and bars, rooftop patios, parks, theaters and more — give residents little reason to venture outside of their building.
But when it comes to entry-level buyers seeking new construction, many turn to the suburbs to make their homeownership dreams come true.
"People prefer to buy new homes, but there aren't a tremendous amount of options right now," says Mike Golden, co-founder of @properties, noting the low supply is good for builders because demand is high. Still, it's expensive for developers to build and difficult to make deals work the way they had in the past.
"If you could build something and sell it for $500 to $600 per square foot, you can hit it out of the park right now," he says. "Developing a project that can work financially for the developer and the consumer is the biggest challenge we face and try to overcome."
With residential housing starts remaining flat for 2017, according to Dodge Data & Analytics, Chicagoland lags behind cities like Atlanta, Denver, Miami and Nashville in new home construction, Golden says.
"We haven't seen the volume of new construction that we saw in the past for a decade," he says. "New construction abated in 2006 and 2007, and in 2008, the music stopped. Mid-tier to high-tier luxury products is what we're seeing now."
"Fewer than 5,000 new home sales each year between the city and the suburbs is one-quarter of what you'd expect pre-recession days," adds Jerry James, president of ER James. "If you are a believer that the pendulum swings back and reverts to the mean, it doesn't even have to go to the mean to see substantial improvement in Chicago's new construction market."
From 2004 to 2006, units in top-of-the-market buildings sold for $600 a square foot, according to James. Today, those same units sell for $1,000 per square foot. Moderate-priced buildings are now $700 to $800 a square foot.
While the majority of new construction meets demand from the high-end market, mid-tier and entry-level new housing is still available in certain areas, particularly infill sites in the city's neighborhoods. The problem is that it moves quickly because demand is high and supply is low — fallout from the Great Recession.
As Chicagoland continues to recover, builders intend to respond with new developments designed to meet buyers' changing needs and desires.
Why is the homebuilder community unable to produce more affordable options?
Alan Lev, president/CEO of Belgravia Group, says real estate development is like a pyramid: The number of buyers at the high end — the top of the pyramid — is much smaller than the number of buyers at the middle to bottom of the pyramid. If you can deliver product at a lower price, you achieve a higher sales volume.
As it stands today, the industry has been unable to do that.
"Unfortunately, there is a real dearth of new product under $1 million," Lev says.
The reasons are numerous:
Older homebuyers with the income and ability to purchase new homes are driving up interest in the $1 million-plus market.
The high cost of construction — both labor and materials — is prohibitive.
Government regulations such as the Affordable Requirements Ordinance make it difficult to finance new developments.
"The cost of producing new homes has become more expensive than it's ever been," Lev says. "Everyone talks about affordable housing, which is important, but we are pricing out people from market-rate pricing who want to buy, because we cannot deliver what we should be able to deliver in the price point.
"It's hard to get new construction projects started, because every lender and equity source requires a significant number of pre-sales before they allow the building to start construction."
As a result, new construction of apartment rentals attract younger people, often delaying their transition into homeownership.
"New construction in apartment rentals ended with 8,000 units delivered last year and more coming," James says. "It's a tremendous surge in new construction, in the tower end downtown, that is lovely with amenities and so forth."
Before the economic crisis of 2007–08, it was the entry-level, first-time home product that drove the marketplace, Golden says. During this time, he saw builders convert condos into rentals because they couldn't attract buyers, a strategy that generated cash flow and a healthy return on investment. Now, he predicts those same rentals will soon revert back to condominiums.
"Entry-level product is being developed as rental properties, with the exception of smaller infill deals in neighborhoods," he says.
"From south on I-55 to northwest on I-90, you can find development continuing out there. Volo, up Route 12, is a first-time buyer market," James adds. "At one point, there were more than 70,000 undeveloped but approved lots ready for development in those corridors. Those will hopefully come back to the market."
What is the homebuilder community's vision for the future?
Through the rest of 2018, Lev intends for Belgravia Group to cater to the "mid-pyramid" level buyers — of the $500,000 to $700,000 price point — by developing 40- to 80-unit luxe condo buildings. "I'm trying to find the right opportunity," he says, noting that the strategy is to find a piece of property that is zoned how he wants and where ARO doesn't apply.
James is waiting for millennials to purchase the homes of move-up buyers — a mid-market category he currently describes as "quiet" — so they can purchase properties. He says millennials don't want to live in apartment towers forever. Eventually, they will settle down and start families.
When they do, they may even skip past entry-level homes, he says, and go directly to move-up homes in the suburbs.
In the meantime, ER James is focused on the top-tier buyer, active empty nesters who have raised families and are looking forward to the next phase of their lives.
Unlike millennials who are more concerned with amenities, empty nesters primarily care about design, James says. They seek out first-floor master bedrooms, high ceilings, big kitchens and entertainment rooms, and new appliances. ER James' new developments in Northbrook and Hinsdale feature maintenance-free homes that cater to empty nesters' interests.
"The buyers we're seeing — late 50s to early 60s — are more active adults," James says. "They're going to have kids and friends coming back to visit, and they want space." He said the 500 potential buyers who toured his Northbrook community last year is indicative of the appetite older adults have in the market to make a change.
Overall, the forecast for housing development in Chicagoland is still bright.
"If you're buying a new home or coming into this market, your dollar will go further in Chicago than any place on the coast," James says. "That augurs well long term for the Midwest. We still have to be competitive from an economic standpoint. Chicago is a market I think everybody's looked at and said, 'With 10 million people in the broadest SMSA level of new housing, demand is far greater than we've seen in the last few years.'"
James stresses the importance of sharing the value of the area's vast array of options so homebuyers can feel secure in taking that next step forward.
"In the end, people generally don't buy homes unless they are confident," he says. "Anything we can do as a homebuilding community to augment people's confidence in the long term, in the attributes of living in this city and region, it's going to bode well for the housing market."