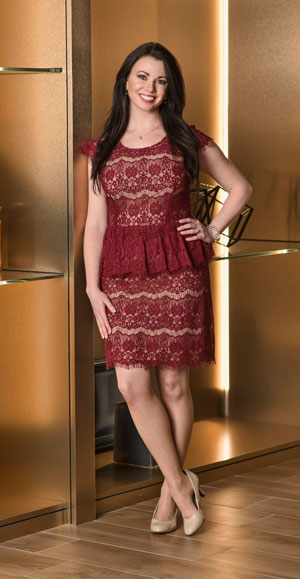 Number of years in real estate: 6
Describe your look: Structured but delicate, vintage yet classic.
What do you consider a "fashion don't"? I say be different and be creative. Fashion is constantly changing, so just find your style and be unique.
What is your favorite piece of clothing and why? Dresses! I feel pretty and polished whenever I wear a dress.
What do you consider a must-have accessory? A wide-brimmed hat to protect my Irish skin from the sun.
What is a fashion crime you have committed in the past? I wear white after Labor Day and have no intention of stopping.
Where are your favorite places to shop? Anthropologie, Francesca's, Nordstrom.
What, besides your wardrobe, completes your look? Lipstick and manicured nails.
What is in your bag/briefcase? Tablet, planner, document folders, water, an apple, mints, floss and lipstick.
My closet is full of… Clothes that I rarely wear!
Dress: Maeve; shoes: Life Stride; rings and necklace: Albert's Diamond Jewelers