The trends they are a changin'. Resilient — or vinyl — flooring is out, and real hardwood floors have reemerged as the leader in the flooring market.
A new report from Home Innovation Research Labs shows that in the last 12 years, there's been a fairly dramatic change in the popularity of materials for flooring certain areas of the house. Hardwood — both solid and engineered — floor popularity increased from 11 to 31 percent, but only for the main areas of the home. Today, 65 percent of all flooring installed in new homes is hardwood, with engineered wood leading by a small margin over solid wood. The ease and speed of installing hardwood could be big contributing factors to its increase in popularity.
In fact, only bathrooms and bedrooms aren't experiencing a surge in hardwood installation. Carpet popularity, while shrinking in areas like living rooms and hallways, continues to be the common bedroom choice. In bathrooms, ceramic tile or natural stone is rapidly increasing in popularity going from 15 to 21 percent over the last 12 years. One main reason for the decrease of carpeting and increase of hardwood in main living areas is that it is easier to clean. Hardwood also is flexible in that it can always accommodate a throw rug to soften up an area.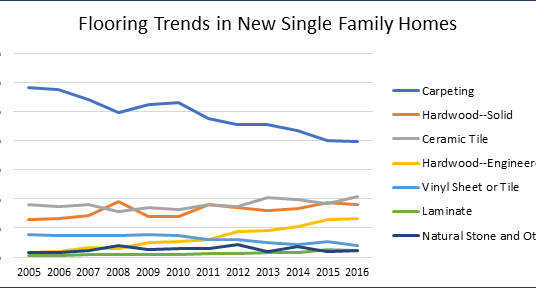 The popularity of vinyl sheet and laminate material has remained stagnant over the last 12 years, with more people utilizing stone or ceramic tile instead. According to builders, the installation costs for both are not much less than hardwood, so most builders — and owners alike — decide to go with natural materials. While in newly built homes vinyl and laminate are on their way out, they have a steadier trend of being installed for renovation or floor remodeling.