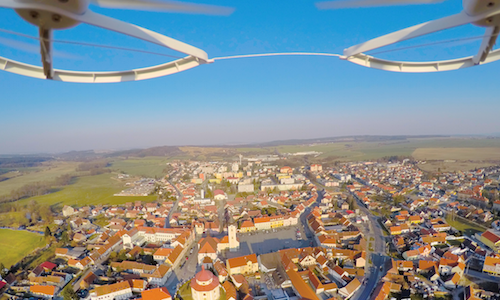 Recent advances in technology have opened up a world of possibilities for marketing new construction homes. Here's how agents are using the latest developments in drone technology and virtual reality to market their product.
Virtual reality
Virtual reality has been employed to market homes for long enough that its presence in a development's marketing plan is nearly a given. Though it was a novel idea for some time, the "experience" was one dimensional and really didn't substitute for an in-home tour, agents said.
Due to technological advances, virtual reality has reclaimed its "wow" factor and is again a desired tool in marketing developments, particularly luxury buildings. Why? The answer is one of the newest advances in VR: the headset.
That has been the case for Related Midwest, which mails out and sends VR headsets home with prospective clients of its One Bennett Park project in Streeterville. Tricia Van Horn, vice president of marketing for Related Midwest, said viewing a unit through the headset takes the viewer into the space better than ever before.
"Imagine putting yourself in your new bed. The view is not just straight ahead … it's up, sideways. It really puts you in the building," Van Horn said. "It's not gimmicky anymore. It's immersive."
Not only is the experience multi-dimensional, but graphics have advanced to allow animators to design the model to make it look like a lived-in home. The goal is to get clients to connect with a unit on a personal or emotional level.
"We curate everything in the space … down to the dog bed," Van Horn said. "You can imagine how a buyer will experience the home."
For the luxury homebuyers, who have fully embraced technology as part of their daily lives, allowing to view a unit from anywhere via the VR headset fits nicely into their lifestyle. Still, it remains only part of the home-sale equation, Van Horn said.
"The days of spending hours and hours in a contained sales center, that's changed," she said. "They want information on the go."
Drones
Commercial drones have come into existence only in the last few years, but for developers, the technology is already considered "game changing," said Brian Hoffman, executive with Red Seal Homes. Especially with under-construction projects, like the company's Provenance  development in the North Shore suburbs, developers are using drones' panoramic and bird's-eye views to help show a development's story.
"It's strange how the different angle really brings the project to life for customers," Hoffman said. "Something about seeing the site plan come to life, I think it's really exciting for people."
Selling homes that don't exist yet can prove challenging for a marketing department. Drones can help show a development's progress.
"You can see the neighborhood coming out of the ground," Hoffman said. It can also give clients a view of the project earlier.
While it's particularly useful for in-progress developments, Hoffman said drones could be handy in selling mid-to-high rise buildings in urban settings, where a drone can better capture the feel of a roof-top deck and bring other amenities to life. And though Red Seal's adoption of the technology is still new, Hoffman said it has already translated into more traffic and closings. He said the group will be incorporating more drone photography moving forward.
"They [drones] definitely lead to increased levels of engagement," Hoffman said.