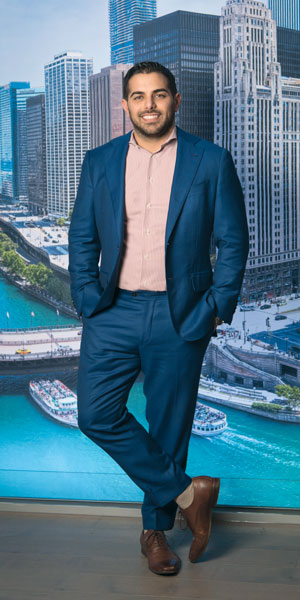 Number of years in real estate: Eight years
Describe your look: "T-Rex Chic"! Everyone jokes that I am built like a T-Rex. I have a large neck and short arms. In all seriousness – my style changes depending on the scenario. In a business setting, I'll always wear a suit. If I have no business to deal with, I usually dress in jeans and a V-neck.
What do you consider a "fashion don't"? Wearing white socks with any dress pants.
What is your favorite piece of clothing and why? My blue suit from Suit Supply!
What do you consider a must-have accessory? A watch. I feel naked when I am not wearing one, and the right watch matched with the right outfit can complete a look.
What is a fashion crime you have committed in the past? I have in the past worn socks with sandals. Actually, almost every time I take out the garbage this somehow happens!
Where are your favorite places to shop? Suit Supply on Rush Street. I buy almost every one of my outfits there. I love that you can buy everything from a tuxedo to jeans there. They custom tailor everything to fit perfectly. Their prices are also one-third of the custom suit companies I tried in the past.
What, besides your wardrobe, completes your look? Little-known secret: I get a haircut every week. I go to a friend of mine, Joseph Dawood, once a week, and at most every 10 days. Having a fresh haircut always feels good!
What is in your bag/briefcase? Between my law practice and real estate practice I get way too many documents. It is a frightening sight in there!
My closet is full of… Suits of all different colors and patterns, t-shirts, and jiu jitsu gis (jiu jitsu outfits – but they have lately been collecting dust).
Suit, shirt, and socks from Suit Supply; Rolex Submariner Watch, and Aldo Shoes