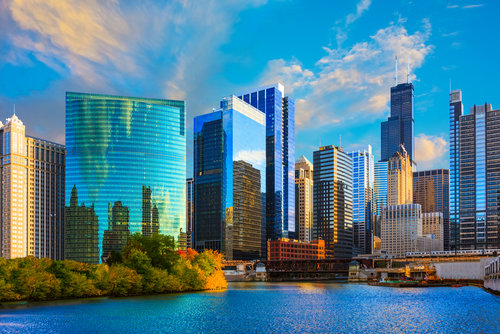 This year is shaping up to be a positive one for real estate in the Chicagoland area, and we've sifted through the latest reports from the local Realtor associations for the most relevant statistics.
Here are seven stats of particular note:
1. Year-to-Date Increases – According to the Illinois Association of Realtors, home sales in the nine-county Chicagoland area were up a respectable 2.1 percent year-over-year in June, closing out the month with 13,620 sales. For the first six months of 2016, though, things are more encouraging, with sales up 6.3 percent to 56,678.
Geoffrey J.D. Hewings, the director of the Regional Economics Applications Laboratory at the University of Illinois, said in IAR's report that home sales may slow in the coming months. "The outlook for the next three months suggests annual growth but the month-to-month changes in sales point to some potential declines in sales," he said.
2. Consistent Price Growth – Although sales were relatively lukewarm in June, home prices continued their strong increases, rising 4.6 percent year-over-year to $242,500; similarly, year-to-date median price is up 6.0 percent to an average of $222,500.
3. County Divergence – Unsurprisingly, housing differed considerably across Chicagoland's counties. While sales rose 0.1 percent in Cook County, they soared 16 percent in McHenry; furthermore, median price was up 4.2 percent in DuPage, compared to a 7.4 percent jump in Will.
4. Flatlining City – Chicago is known as one of the more geographically flat cities in the U.S., and that was certainly consistent with the city's housing market in June. Although median price rose 4.1 percent to $300,000, sales were up just 0.1 percent (though like the overall region, year-to-date sales were up a more positive 4.1 percent).
5. Suburban Growth – Compared to the city, home sales were stronger in the suburbs, according to stats from MORe. Single-family detached sales increased 2.6 percent year-over-year in Chicago's suburbs, while median sales price rose 7.2 percent to $268,000.
6. Western Dominance – MORe also spotlighted specific suburbs that saw particularly strong sales, many of which are west of the city. Sales in Naperville were up 10.5 percent, compared to St. Charles (up 25 percent), Wheaton (16.2 percent), and Geneva (18.3 percent)
7. The Future is Bright – Finally, pending sales in Chicago's suburbs rose 16.9 percent year-over-year in June, and were notably strong in the following communities: Aurora (up 25.6 percent), Hoffman Estates (25 percent), Elmhurst (18.5 percent), Oak Lawn (20.4 percent), and Glen Ellyn (27.6 percent).