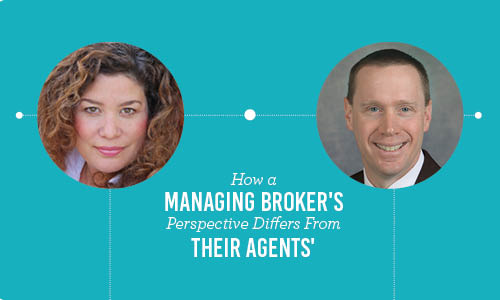 How do agents' and managing brokers' expectations around the role differ? To answer that question, we reached out to an agent, Carmen Rodriguez of Coldwell Banker, and a managing broker, Bill Gill of Baird & Warner's Naperville office.
The managing broker's job in a nutshell
Agent Perspective (AP): Rodriguez described her "ideal" managing broker as a provider, someone who can ensure "a smooth-running office, with clean, presentable facilities, well-stocked with needed materials, a well-trained and managed administrative staff and adequate resources to conduct business in the modern age." She said managing brokers should be available for agents' questions, and have the competence to effectively build business plans and provide professional development for agents.
Managing Broker Perspective (MBP): Gill described the job as "pretty simple." He broke it down into four core responsibilities: attract quality agents (a mix of new and experienced); provide a training platform that reflects the agent's level of experience; provide one-on-one training for the "interested" agents; and reasonably promote the brokerage's mortgage and title company partners.
Communication – how often and how much?
AP: The standards of communication between agents and their managing broker is less cut-and-dry for Rodriguez. "I think that depends more on the agent than on the managing broker," she said. She explains that a prescribed amount of contact would be ineffective, given individual differences. Rather, managing brokers should form relationships with their agents and provide support as necessary.
MBP: Gill's philosophy on agent communication aligned with Rodriguez's: he believes each agent will require a different approach, and it's his job to figure that out. "My job is to work for the agents," he said, explaining that some agents like to maintain constant contact, while others prefer only necessary check-ins. "At the end of the day, if the agent is satisfied with the communication, then it is the right amount."
What to train, and how to train it
AP:  Training is where Rodriguez believes managing brokers "fail miserably" in the industry: "No one ever teaches anyone how to do business in this business." She expects a managing broker to bring "detailed, well-thought-out training plans" to the table. She'd like to see those plans include: education on the administrative functions of the job; shadowing of successful agents; practice and role-play opportunities; and, finally, encouragement. She added that training should not be restricted to orientation periods, and that agents are better served by ongoing guidance. "Too often, older and experienced agents become disenfranchised from their own businesses because they simply don't get the kind of patience they need from their brokerages in terms of learning new ways of doing things."
MBP: At Baird & Warner, Gill said that training is an ongoing pursuit. He described the managing broker's role as less active trainer and more facilitator. The managing broker's job is not to actually do all the training, he explained, but rather, to "coordinate the efforts." In this case, the efforts Gill referenced are multiple "formal training sessions" every month, as well as sales meetings with "a component of training." He also keeps two full-time assistant trainers on staff to work with agents, either one-on-one or in small groups. Gill's brokerage also offers company-wide opportunities, ranging from online courses to seven-day training course called "Career Institute."
Coaching expectations
AP: Coaching is another area where Rodriguez believes the approach should reflect the individual agent, not a template. Foundationally, though, the managing broker should be coaching from an "informed place," she explained. Once the agent has been given the tools necessary to succeed, a managing broker's job then becomes a matter of evaluating and improving the use of those tools, or suggesting alternatives that might improve their business.
MBP: Gill approaches coaching the same way he does communication: "It depends on what the agent is looking for." While he admits some agents require additional coaching through the sales process, others prefer to operate independently and have a "sounding board" when, and if, they need it. "Really," he summed it up, "the managing broker's job is to be all things to all agents."