Home sales and prices were both positive in Chicagoland's January marketplace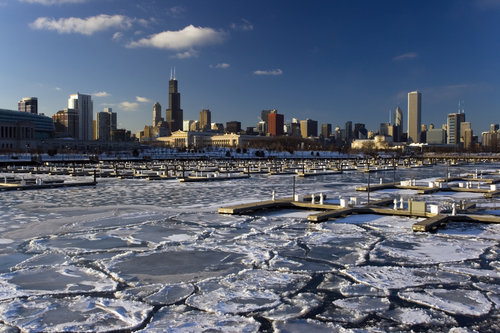 Home sales in the nine-county Chicagoland area rose 4.8 percent year-over-year in January, totaling 6,018 for the month, according to the latest report from the Illinois Association of Realtors.
In what IAR is calling the strongest January market "in several years," median price also posted a strong increase, rising 9.1 percent from Jan. 2015 to $191,000.
IAR President Mike Drews, who is also a broker-associate with Charles B. Doss & Co. in Aurora, credited the mild winter for January's strong market.
"The year appears to be getting off to a strong start, in no small part due to a mild winter," Drews said. "Sellers are getting very good overall prices due to diminished inventories. The strong consumer demand which was evident throughout 2015 seems to be holding firm as we start off 2016."
According to additional IAR analysis, Chicagoland housing inventory was just over 33,000 units in January, a 15.6 percent decline from a year ago.
Housing Activity in the City & Suburbs
Across the Chicagoland region, the housing news was positive:
Home sales were especially strong in DuPage County, where they shot up 27.6 percent year-over-year (compared to a 4.4 percent increase for Cook County). Lake County saw impressive price growth, with an 11.4 percent increase.
In the city of Chicago, home sales were more modest, rising just 1.1 percent from Jan. 2015; median price, though, rose more strongly, increasing 4.5 percent to $220,000.
As DuPage County's numbers hint, sales were stronger in the suburbs. According to the Mainstreet Organization of Realtors (MORe), sales of single-family detached homes rose 10.8 percent year-over-year in January, while median sales price rose 10.8 percent to $205,000.
Sales were particularly strong in the following suburbs: Addison (138.5 percent), Oak Forest (78.6 percent), Burbank (66.7 percent), Downers Grove (52.9 percent), Oak Lawn (46.4 percent) and Gurnee (33.3 percent).
Eye of the Housing Storm?
Despite January's strong housing market, there are causes for concern on the market's long-term health.
Geoffrey J.D. Hewings, the director of the Regional Economics Applications Laboratory (REAL) at the University of Illinois, explained in IAR's report that the budget stalemate in Springfield could impact local housing markets.
"With Illinois ending 2015 with a net job loss for the first time since 2009, there is some concern about when this begins to affect the housing market," Hewings said. "Nationally, consumers seem more optimistic about selling a house than buying one; with the continuing budget impasse in Springfield, concerns about job retention are likely to dampen housing demand. The first quarter of 2016 should provide a key to the impact of the state's economy on the housing market"