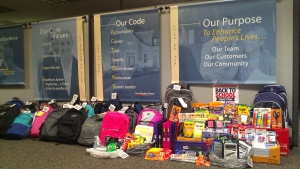 David Weekly Homes recently hosted a Back to School Drive that benefited the Walter and Connie Payton Foundation. The organization helps abused, neglected and underprivileged children in Illinois.
David Weekly Homes' CARE program is a volunteer project that partners team members, homeowners, homebuyers and community members. Together, they work with nonprofits to make a positive impact on the community. Their goal of "building dreams, enhancing lives" has registered within the community; the Weekly Family Foundation has donated more than $100 million to various organizations in the U.S and abroad over the past 20 years.
Nancy Hewlett, the office manager of the Walter and Connie Payton Foundation, was impressed by the dedication of the team members.
"We are so thankful that David Weekley Homes hosted a school supply drive for us," she said.
During the two-week drive, 23 backpacks were filled with school supplies. To make sure they were distributed before school started, team members spent more than 20 hours sorting and delivering the donations to the organization. 
April Sjoholm, a marketing coordinator with David Weekley Homes, was glad their drive was a success.
"Our team members were delighted to be involved in the back-to-school drive that will help children have a successful year in school."