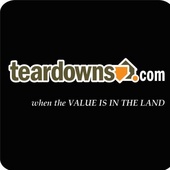 Brian Hickey, the founder of teardowns.com, an online marketplace geared towards the redevelopment of properties, likes to think of teardowns as part of an "evolution not a revolution" within the housing market.
"Buyers' preferences have changed – more buyers prefer new or like-new homes if it's affordable for them," Hickey said. "Even those that prefer historic structures usually appreciate them more with a new kitchen and bathroom. Old is not 'in'." And that demand for new clashes with the fact that 32 percent of the country's nearly 132 million homes are between 55 and 95+ years old.
Those changes in homebuyer preferences have made the demolition of pre-existing properties more common. Hickey says that if buyers decide to tear down and start over that they should ask themselves the following questions: Is the value of the property in the structure itself, or the land? Is the functional obsolescence of the home too much to overcome? Does the home have structural problems that can only be solved by new construction?
Hickey also suggests that homeowners become familiar with their new neighborhood to determine if the immediate area can support a home that is worth more than the valuation of the pre-existing property. He advises that homeowners need to be wary of owning the most expensive house on the block.
"Building new construction in an area that can't support the new property is a recipe for disaster," Hickey said. "The area should be able to support the new construction, which typically has about three times the value of the pre-existing property."
Understanding the zoning regulations is an equally important element of a teardo  wn project. Teardowns.com was founded in Hinsdale, a city once described by USA Today as the epicenter of the teardown movement. With Illinois' rich history in redevelopment projects, Hickey believes the state is ahead of the curve in terms of zoning regulations that prevent the trend of excessive redevelopment.
"In my experience, many Illinois communities were early in redevelopment and made zoning rules to accommodate the trend before it became a larger problem like we see in California," Hickey said.