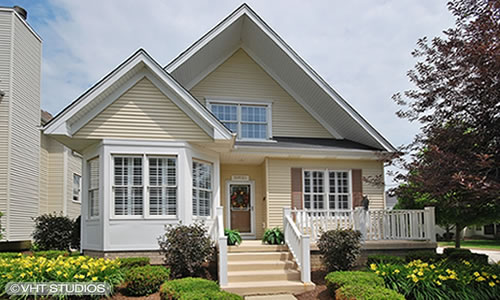 Kelly Johnson is a broker at Coldwell Banker Residential in St. Charles and President of the Women's Council of Realtors Fox Valley. There's no question that Kelly Johnson is an accomplished go-getter. She sells homes fast by leveraging her remarkable attention to detail, outgoing personality, and ability to seek out new opportunities.
Kelly stays focused by following her tried and true selling process. Her tips include professional real estate photography, enhancing her listings online, and tapping into her network of contacts to spread the word. 
Tip #1: Professional real estate photography comes first.
"I would never showcase a listing without professional real estate photography," declares Kelly.
One time, Kelly was asked to help sell an Elgin property that was sitting on the market for four months. The seller had been using "DIY" photography, but the images did not showcase the property's full potential.
So when Kelly was brought on to ensure this listing would get pulled off the market fast, she called VHT Studios, her #1 resource for high-quality real estate photography.
"The property had an above ground pool which isn't always aesthetically pleasing," Kelly states. "But my VHT photographer was able to take better shots of the backyard to make it more eye-catching."
Once her listing went live, Kelly received a contract on the listing within 30 days.
When it comes to professional real estate photography, it's all about quality and quantity. "If the home doesn't have enough rooms or a yard to take more shots of, then I like to take some of the area such as parks or the downtown vicinity. The more images, the better!"
Tip #2: Enhance online listings.
Kelly Johnson refuses to cut corners when adding her listings to sites like Realtor.com and MLS.com. Along with leveraging professional real estate photography, Kelly makes sure her listing's photography and descriptions complement each other to maximize its online exposure.
Kelly takes writing listing descriptions very seriously. Her goal is to make listings easy to find, but also fun and enjoyable to read by telling a story about the property.
"People like to visualize their next home. I like to write descriptions such as: 'Beautiful views from the backyard' or 'Imagine watching the sunset from here'. These descriptions get people excited to see the property in-person."
Tip #3: Great communication is essential.
Kelly stays well connected with the local community, which has always been one of her biggest advantages. Even though most people go online to find their next home, nothing is more powerful than marketing the listing through real-life interactions. 
Kelly leverages her personal and professional contacts by sending out a simple e-Blast letting her network of realtors, friends, family and neighbors know of current listings.
"Communication is key, it builds trust" Kelly states. "Especially in the suburbs where people know each other. Word of mouth has always been a popular sales tool."
In a competitive industry, being quick to communicate with prospective buyers is also something Kelly keeps in mind, "In real estate, you must return calls immediately. Even with some clients, a text message is all it takes. One of my clients said, 'you know why I like you, Kelly? Because you always answer the phone."
Want to become a top real estate pro like Kelly Johnson? Call VHT Studios' at 1-800-790-8687 or visit VHTStudios.com to book a photography shoot today!
Kelly Johnson is a Coldwell Banker agent and is President of the Women's Council of Realtors Fox Valley. She can be reached at 630-377-1771.