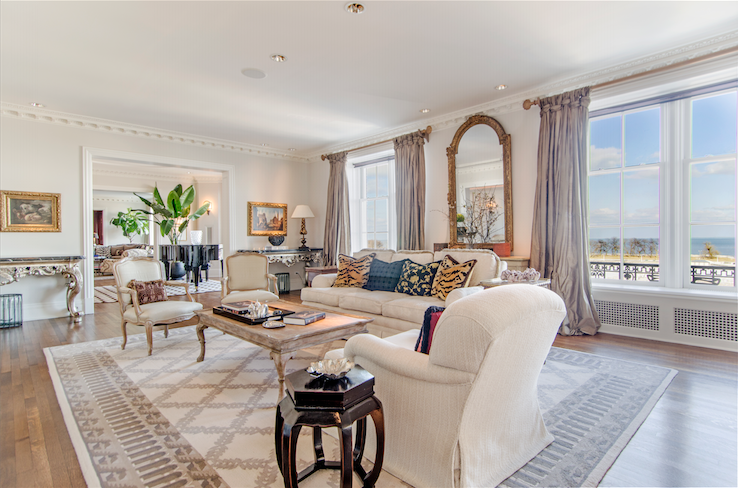 Luxury is a slippery concept, one that is constantly evolving and dictated by trends that change not only yearly, but monthly. To better understand what luxury represents, we chose to showcase a local listing. And with more than 7,800 square feet of living space and a seamless offering of both Old World finishes and contemporary design, 3400 N. Lake Shore Drive's Unit 5-ABC, which recently underwent a three-year renovation to restore three units back to its original footprint, personifies what high-end real estate is in 2015.
Situated at the northwest corner of Roscoe and Lake Shore Drive in a premier East Lakeview Beaux Arts building, the $4.8 million condo promises buyers a truly unique residence. Custom features include: hardwood floors by Birger Juell; mill work, cabinetry and paneling by Parenti & Raffaelli; artisan crafted doors and closets; designer lighting with Lutron dimmers; and coffered ceilings. In its mission to stand out, it represents a fundamental demand of luxury buyers: a one-of-a-kind property.
Listing broker Jennifer Ames said, "In all my years in residential sales, I have never seen a home of this caliber. It is true perfection." Ames added that for her, luxury is not about being flashy or new. "True luxury is embodied in thoughtful design, timeless quality and superior execution."
Positioned to face Belmont Harbor and Lake Michigan, the residence is designed with luxurious intent, with five bedrooms (each with custom closets and opulent marble en suite baths), two balconies and an always sought-after true chef's kitchen with custom European fixtures and a restaurant style, walk-in refrigerator – plus two designated garage spaces. Nearly 100 feet of east-facing windows provide exquisite views, and grandly proportioned formal rooms, complemented by gracious entertaining and gallery space, address a growing demand for openness.
From 2013 to 2014, the world's ultra high net worth population grew by 6 percent. North America houses 35 percent of the total 211,275 population, which accounts for nearly $10,265 billion worth of residential demand, according to a joint luxury real estate market report from Wealth X and Sotheby's Global. The report's findings, simply put, were: the U.S. luxury market is booming.