We're just about at the halfway point for 2014 – how has the housing market fared, thus far?
We're now at the halfway mark for 2014, and unsurprisingly, the year has brought many new surprises and developments for the nation's housing market as it slowly progresses from the dark post-bubble days.
To commemorate the occasion, we've decided to call attention to four of the more influential trends in housing right now, to give you a better idea of where the market may be heading in 2014's second half.
1. Slowdowns Across the Board – There can be little doubt that at a macro level, the housing market is definitely showing less activity in 2014 than it was in 2013. Not only are existing-home sales and new home sales down by double-digit amounts, but home construction is also more sluggish. Courtesy of The Wall Street Journal, here's a fine graph that demonstrates the divergence: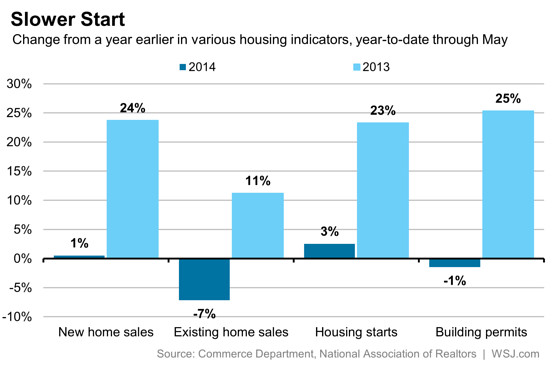 2. Home-Price Decline – Similarly, home prices are also showing less upward mobility than in months past. Granted, home prices are still rising – in the latest Case-Shiller, which tracked prices through April, home prices still were up 10.8 percent year-over-year – but we shouldn't get too comfortable with such increases. Not only are analysts predicting a softening of yearly increases, but also, prices were up just 0.2 percent from March to April, compared with a 1.2 percent increase from February to March. Here's another Journal graph that charts the sudden change: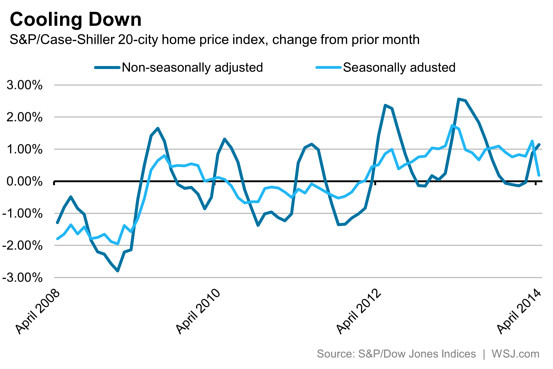 3. Still Considerable Room for Improvement – Of course, we don't mean to be total downers on the home-price front, because there still remains considerable space for growth. Here in Chicago, for instance, home prices are still 25.3 percent below their 2006-2007 peak, even with the 10.7 percent yearly increase that the Case-Shiller tracked for April.
4. A Tale of Two Housing Markets – Finally, much of housing's 2014 slowdown can be explained away with a simple observation – the overwhelming share of activity in today's housing market is taking place in higher-tier markets, while middle/lower-class markets (which make up the vast majority of the overall marketplace) are seeing either stagnant or negative growth from year's past, on account of a sluggish economy, student loan debt and low wages.
As a result, when investors and upper-class consumers took their foot off the gas pedal earlier this year, the housing market faltered – and as we've covered before, that is true in both the existing and new home markets.