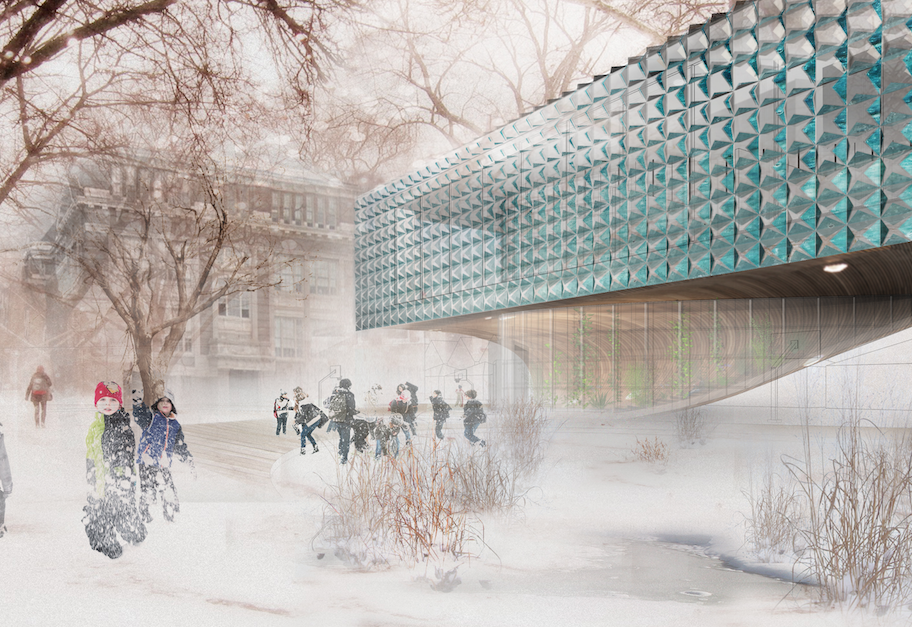 HOK Design's Chicago office won first place in the 2014 School Annex Design Competition organized by the Chicago Living Building Challenge Collaborative. HOK's challenge was to create a sustainable classroom building as an addition to Eli Whitney Elementary School, located on the southwest side.
HOK, founded in 1955, is a global design, architecture, engineering and planning firm with 24 offices on three continents and more than 1,600 employees. HOK combines science and art to create exceptional and unique designs, while also taking into account environmental stewardship and human needs.
Lindy McAra, Justin Warner, Meredith McBride, Olia Miho, and Farid Pour, HOK team members from its Chicago office, brought together members from all departments to develop the most innovative and realistic classroom space for the overcrowded elementary school. This included members from the firm's architecture, interior design and sustainable design studios.
The goal that the HOK design team had in mind from the start was to create a living space that was also an inviting surface. The result was an active "living" exterior skin that connects with the building and allows people to sit and walk on it. It also changes shape depending on the outdoor temperature. For example, when it is hot outside, the panels of aluminum and oxidized copper close and act as a shading device. When the temperature lowers, the reverse happens and light is let into the building.
On May 29, HOK was declared the competition's winner, which is chosen by a jury. The competition required meetings every four weeks during the design portion to make valuable feedback available for competitors. In addition, at least one member had to be present at each meeting. The Living Building Challenge Collaborative Chicago (LBCCC) is a community-based organization that created the competition with the hope to inspire the construction of a "Living Building" in Chicago.