Prudential Rubloff and Koenig & Strey made a big announcement earlier today on the future of their businesses.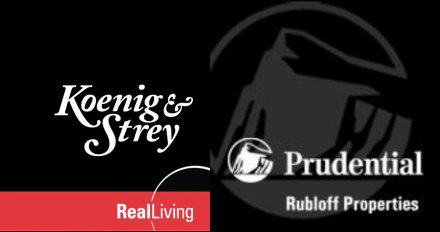 Chicago brokerages Prudential Rubloff Properties and Koenig & Strey Real Living will merge and form a new brokerage under the HomeServices of America brand, according to a joint announcement from the brokerages today.
The new brokerage, which will be called Berkshire Hathaway HomeServices KoenigRubloff Realty Group when the merger is complete in spring 2014, came about when HomeServices of America, Inc., a Berkshire Hathaway affiliate, acquired Prudential Rubloff Properties and its subsidiaries Rubloff Insurance and Sterling Title Services LLC; HomeServices had already acquired Koenig & Strey in Sept. 2009.
The Prudential Rubloff/Koenig & Strey Merger
As we reported earlier today, there had been persistent rumors as of late regarding a merger of Koenig and Rubloff, which will result in the second-largest residential brokerage team in the Chicagoland area; the brokerages had a combined sales volume of $4.1 billion in 2012, and altogether employ nearly 1,600 sales associates and professional staff throughout Chicagoland.
The companies' current principals will have leadership positions in the combined organization. Nancy Nagy, Koenig's current CEO, will serve as CEO of Berkshire Hathaway HomeServices KoenigRubloff Realty Group, while Michael Pierson and Chris Eigel of Rubloff will serve as president and as chief operating officer, respectively.
A New Dawn for Chicago Real Estate?
Ron Peltier, the chairman and CEO of HomeServices of America, spoke of the benefits of the merger.
"Nancy, Michael and Chris are each highly regarded for their leadership skills, their real estate experience and their unwavering commitment to their agents, employees and buyers and sellers," Peltier said. "Bringing together the leadership, resources and talent of these two companies uniquely positions them to deliver on their shared mission of providing an exceptional customer experience and creates an outstanding opportunity for introducing Berkshire Hathaway HomeServices to the Chicago market."
And of course, the merger only adds to HomeServices' burgeoning ranks, which now include nearly 22,000 real estate professionals in 25 states, along with $55 billion in 2012 sales, nearly 193,000 transactions and more than 153,000 mortgage, insurance, title and escrow transactions.
Nagy said the merger will be influential for Chicago's real estate climate.
"Combining Prudential Rubloff with Koenig & Strey represents a new chapter in the history of our great companies and is a game changer in Chicago real estate," she said. "I have tremendous respect for both Michael and Chris and look forward to working closely with them as we bring Berkshire Hathaway HomeServices KoenigRubloff Realty Group to the Chicago market."