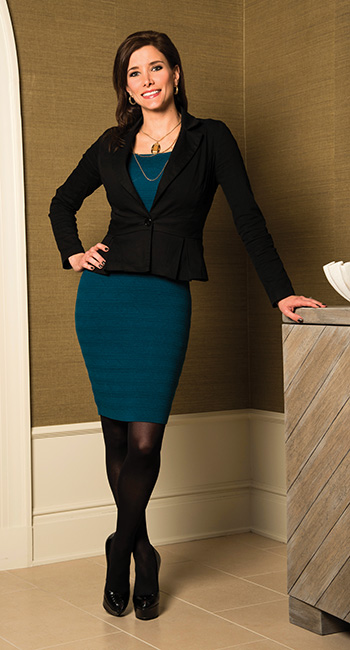 Number of years in real estate: 14.
Describe your look: Modern classic.
What do you consider a "fashion don't"? Matching shoes, matching bag, matching belt…mix it up a bit.
What is your favorite piece of clothing and why? Any Diane von Furstenberg wrap dress.  It's the easiest item to throw on and go without a thought.
What do you consider a must-have accessory? My watch – I hate being late.
What is a fashion crime you have committed in the past? Hair that was bigger than my actual head…the disadvantage of being a teen in the late '80s. 
Where are your favorite places to shop? Cusp, Neiman Marcus, Nordstrom, Loehmann's, Scoop NYC, any vintage clothing store, Barneys New York, Century 21.com and Target.
What, besides your wardrobe, completes your look?  The six minutes per day I spend meditating and Art + Science Salon – Paul Wilson and Susan Hurley are magicians.
Dress Catherine: Malandrino
Jacket: Alice + Olivia
Nylons: Wolford
Shoes: Sergio Rossi
Necklace/locket: Antique
Watch: Rolex
Earrings: Belonged to my Grandma Mary
SPECIAL THANKS TO LINCOLN PARK 2550 FOR THE LOCATION OF THIS PHOTO SHOOT