Chicago's housing market put up strong numbers in February, with home sales and home prices both showing encouraging trends.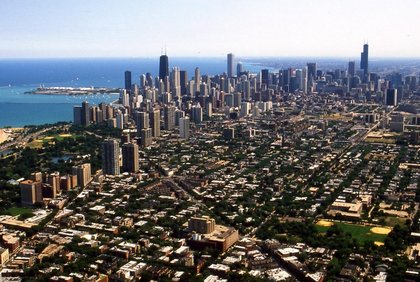 The Chicagoland real estate market continued its steady march to recovery in February, with the Illinois Association of Realtors (IAR) and the Mainstreet Association of Realtors (MORe) both reporting positive numbers for the local housing market.
For the nine-county Chicago Primary Metropolitan Statistical Area area, total home sales rose 20.2 percent year-over-year in February, while median price, at $140,000, was up 3.7 percent; the latter statistic on home prices is particularly encouraging, considering Chicago is among the few cities in the nation still struggling with low home prices.
For real estate within the Chicago city limits, home sales rose 10.2 percent yearly, with the median home price rising an impressive 12.9 percent; sales for condos were up an identical 10.2 percent, but median condo price all but took off in February, rising 21.2 percent to $200,000.
Zeke Morris, the president of the Chicago Association of Realtors, said the first two months of the year have been optimistic ones for Chicago real estate.
"City of Chicago home sales in the first two months of 2013 were 21.8 percent above where they were at the same time in 2012, despite the fact that sales traditionally slow in winter," Morris said. "The current market renewal leaves no question about Chicagoans' continued desire for homeownership. What's critical is that lenders more actively foster loan product for buyers across the financial spectrum."
Suburban Chicago's Housing Market Surging
Chicago's suburban markets, though, were no slouch in February. According to data from MORe, sales of single-family, detached homes in suburban Chicago surged last month, rising 41 percent year-over-year; similarly, the number of detached properties under contract rose 50 percent, all but guaranteeing such positive numbers in the coming months.
Tonya Corder, the president of MORe, said housing affordability in Chicago – a topic we just reported on – has been driving the surge in home sales.
"In many cases the cost of buying a home today is cheaper than renting. When you factor in affordable home prices and historically low interest rates, today's market represents a 'perfect storm' of conditions that may not exist again in our lifetimes," Corder said. "We are not seeing as much of a market for fixer-uppers among traditional homebuyers. Homes that are 'move-in ready' are the ones getting multiple offers in this market."
Specifically, some suburbs that showed the strongest gains included: Elmwood Park, where single-family detached sales were up 171 percent; St. Charles, where they were up 144 percent; and Evergreen Park, where sales rose an incredible 360 percent.