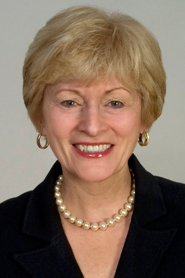 Darlene Little
Koenig & Strey Real Living
Koenig & Strey Real Living was fortunate to obtain Darlene Little as vice president and managing broker of its Lincoln Park Chicago office in February 2011. Prior to that, she was the executive vice president of Rubloff Residential Properties for more than 12 years.
Her easygoing management style provides an oasis for agents in the fast-paced and multidimensional real estate market. She is a fair, empowering visionary, and most of all, has the same high level of ethics that has been the hallmark of Koenig and Strey for five decades.
Prior to entering the real estate industry, she was founder and president of her own corporation with four locations in the Chicagoland Area.
Little's commitment to the excellence of the real estate industry is apparent in her industry involvement. She is currently on the Chicago Association of Realtors Contracts and Riders Task Force, has served on the Professional Standards Committee for the Chicago Association of Realtors, was a past president of the Chicago Association of Realtors, and was named its Realtor of the Year in 2006.
She was also the chairperson of the Chicago Association of Realtors Education Foundation and is a past director of the Illinois Association of Realtors and the National Association of Realtors. In 2012, the Chicago Association of Realtors honored Darlene with the Realtor Community Service Award.
"It is quite an honor just to be nominated for the 'Charitable Service Award.' Many agents know about my longtime involvement with my charity efforts with Misericordia, a home to more than 600 children and adults with developmental and physical disabilities. My involvement in charitable service takes its roots in a personal family situation. My sweet daughter Stacy was diagnosed at a young age with a developmental disability. Several years ago, I heard a remarkable woman named Sister Rosemary Connolly give a speech. Sister Rosemary is the executive director of Misericordia. Her words inspired me, and I knew I had a calling to help in Misericordia's charitable efforts. Stacy now calls Misericordia her home. She is happy, well-adjusted, productive, respected and loved by the Misericordia community.
I am an advocate for my daughter and other individuals with developmental disabilities. Those in the real estate community know of my work and passion for this wonderful organization. I am on the Misericordia's Women's Auxilliary Board, and I volunteer in their gift shop, support their restaurant and bakery and help with numerous fundraising activities.
I thank all my friends and fellow real estate agents for their help and involvement. My involvement in the charitable efforts of Misericordia has given back to me much more than I give. It gives a special meaning to life."
Runners-Up:
Kevin Van Eck, @properties; Chris Mundy, @properties