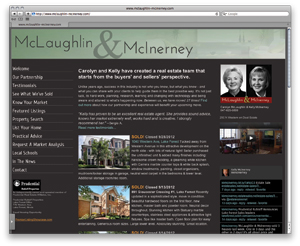 Carolyn McLaughlin and Kelly McInerney
mclaughlin-mcinerney.com
Prudential Rubloff
Carolyn McLaughlin and Kelly McInerney joined forces in 2001 to create a partnership within Prudential Rubloff Properties.
Their partnership is skilled in negotiation, extremely organized and has a wealth of knowledge about the real estate market that comes from a combined 40 years in the business and dedicated hard work. They give every client a smooth, professional real estate transaction.
McLaughlin has been in real estate for 30 years, and though McInerney's career path began in finance, they know their business, how to communicate, and have a strong work ethic and a driving desire to give their clients the highest level of service. Years of combined experience and great synergy between them are what enable this team to function as one top-notch agent.
"We are thrilled to win this distinction in Chicago Agent magazine for best agent website. We worked hard to develop a website that is user-friendly and easy to navigate with access to very important and current information about the real estate market. A consumer can search our site without having to register with us. They can get a feel for who we are as agents and see how we have successfully helped clients. The quality of service they can expect from us is evident by the amount of detail and information we provide for each of our clients. We are very appreciative and honored that agents recognized our efforts and like what we're doing!"
Carolyn McLaughlin and Kelly McInerney
Runners-Up:
Samuel Tarara and Peter Tortorello, Koenig & Strey Real Living; Phil Skowron, @properties