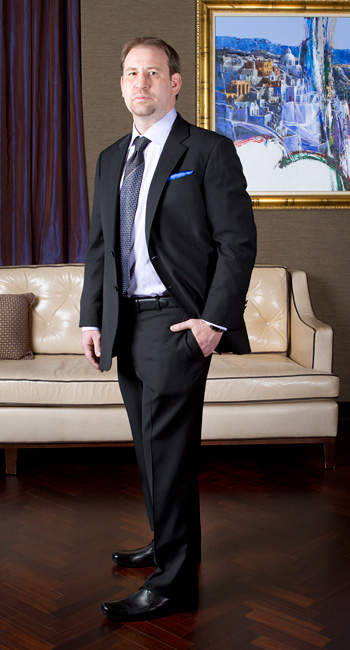 Number of years in real estate: 14
Describe your look: Business classic with a splash of contemporary.
What do you consider a "fashion don't"? Wearing white socks with black shoes and pants that are too short, or "floods."
What is your favorite piece of clothing and why? My black Armani suit. It commands respect, and I just look good in it!
What do you consider a must-have accessory? A great-looking watch, because you always need to be on time, even if your smartphone dies!
What is a fashion crime you have committed in the past? I had a mullet back in the '90s. When I was young, it was business in the front, party in the back.
Where are your favorite places to shop? Syd Jerome, Nordstrom and Macy's.
What, besides your wardrobe, completes your look? Good hygiene. Looking put-together and smelling nice is a must. I wear the fragrance Gucci Guilty because it makes me guilty of smelling like success!
Suit – Armani Collezioni
Shirt – Canali
Shoes – Hugo Boss
Watch – Movado
Belt – Fullum & Holt
Tie – Versace
---
SPECIAL THANKS TO HOTEL ARISTA FOR THE LOCATION OF THE PHOTO SHOOT