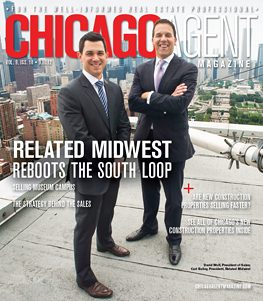 By Amber Statler-Matthews 
An improved job outlook, a stabilizing real estate market and a quality, luxury product may help to increase condo sales in Chicago. At least, that's what Related Midwest is forecasting.
The real estate development firm has entered into a partnership to re-launch three newly built and previously failed downtown residential towers in the South Loop's Museum Campus: 1201 South Prairie Avenue, 1629 South Prairie Avenue and 1901 South Calumet Avenue.
"Museum Park West (1201 South Prairie Avenue), the largest of the three condominiums, sold extremely well when the condos originally became available," said Curt Bailey, president of Related Midwest. Now, Bailey is banking on laurels and looks to pull off the biggest distressed condo deal in the post-boom market.
"Related Midwest has an incredible legacy of developing the top product from Chicago's condo and rental standpoint," Bailey said. "We want to take advantage of the market turnaround and the limited inventory of new product. These condos have really maintained their value."
The 500 unsold condominium residences, which will officially be for sale early next year, will be reimagined by Related Midwest. Currently, 300 condos are finished and another 200 are in white box condition, with the goal of including hardwood floors, new cabinetry and the latest, high-tech appliances in most of the units.
Related Midwest will also manage the buildings and lead the marketing and sales efforts. Bailey recruited David Wolf, formerly with @properties, to take on the task of selling the several hundred condos as president of sales. Wolf will help lead a lineup of seasoned real estate professionals.
"Related is working with one of the largest retail banks to help buyers with financing," Wolf said. "We have also created a large marketing campaign that includes significant print and digital media and direct mailing to agents."
The firm has decided to sell all 500 units rather than rent a portion of them, which, according to Wolf, is a better strategy given the current Freddie Mac and Fannie Mae market rules.
Also, the third quarter forecast from the Regional Economics Applications Laboratory at the University of Illinois suggested prices in both Chicago and Illinois should remain about the same as they were this time last year, and according to Wolf, 96 percent of luxury rentals are occupied. With those numbers, supply and demand will drive up the price.
"A lot of why we are opting to sell and not rent has to do with the condos: the size of the unit, floor and height and view premiums," Wolf explained, and added that the price range of the condos has not quite been determined yet.
Condo sales are also affected by improving home sales in the suburbs. Historically, Chicago's condo market has been driven by people selling homes outside of the city.
Wolf believes price appreciation will be the push needed to move these condos, especially when renting is higher than cost per month in purchases.
If all these factors aren't enough to convince buyers now is the time to purchase a condo in the Chicago area, then one need only turn to the latest job numbers. The employment outlook is a key component to a successful real estate forecast.
In June, the Department of Labor numbers showed that Chicago and surrounding metropolitan areas had more job growth than any other city in the nation. The area's workforce added 32,700 jobs from May a year ago. Most of the jobs were in professional and business services. Chicago's 3.4 percent rate of job growth in this job sector was greater than the 3.0 percent gain nationwide.
Still, one can't help but wonder why Related is so confident in its ability to sell the 500 unsold units in these three buildings, even though luxury condos at other buildings, like the Colombian, also located in the South Loop, remain a tough sell. But the woes of other developments don't concern Bailey or Wolf.
"We are in a unique position from developers who have current product and haven't slashed their prices," Wolf explained. "We have the ability to rebrand these buildings and bring the value of Related's history to the table. Our strategy is based on data and really seeing a turnaround in this market."