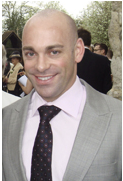 Sam Jenkins entered the Real Estate industry for a number of reasons – he wanted to combine his love for the city of Chicago with his knowledge and experience in providing the highest level of service to discerning customers. After 6 years as an elite personal fitness consultant in the Chicago & London markets, Sam returned to Chicago in 2004 to create successful partnerships with his clients based on listening fully to their needs and fulfilling their expectations.
As one of the top brokers at CONLON: A Real Estate Company, Sam & his team have had regular award winning years, including becoming one of the Chicago Association of Realtors Top Producers with over 10 million in sales.  Sam's extensive knowledge and understanding of Chicago's real estate market has meant facilitating transactions across a broad spectrum; including million dollar land deals, multi-units conversions, new construction projects – as well as working extensively with buyers & investors in many locations.
Sam is dedicated to a very high level of customer service and has created many long term client relationships based on their satisfaction with the service they receive.
Congratulations, Sam Jenkins, on another great year!
Sam's recent listings & sales include: